2018 DSN Big Ten Power Rankings – Week 7
Much like the College Football Playoff Committee, I don't believe in doing rankings before any meaningful games have been played.  Unlike them, this committee of one is far too impatient to wait any longer. In fact, I did a preliminary conference ranking last week. It turned out to be a fruitful exercise with a whopping total of zero teams moving. Conference play is well underway as evidenced by the country's best atmosphere in Happy Valley a couple weeks ago and the Spartans shocking (to some) home loss against the suddenly dangerous Wildcats. I'll do my best not to James Franklin my way through these teams.
Important: These are Power Rankings NOT standings. Best team on a neutral field right this second. Full stop. Teams can and WILL be ranked behind teams they've beaten. Any given Saturday, right?
---
1. Ohio State Record: 6-0 (3-0) Previous Rank: N/A State: Status Quo

They're the most talented team in the Big Ten and they've already logged two wins away from home over top 25 teams. They silenced the white noise in (much less) Happy Valley, overcoming a double-digit fourth-quarter deficit in the process. Dwayne Haskins elevates the offense higher than it ever was under J.T. Barrett and the Big Ten road very much runs through Columbus. They aren't without weakness, however, with a more vulnerable defense than year's past. They could use the return of Nick Bosa but it's unclear if he will play for the Buckeyes again this season – or ever.
---
2. Michigan Record: 5-1 (3-0) Previous Rank: N/A State: Better than yesterday and the day before that…

They survived in Evanston. It won't always be pretty but this Wolverine squad avoided the road trip letdown their 2016 counterpart couldn't. Nebraska's ineptitude might've lulled Michigan to a sleepwalk but an early Wildcat storm certainly woke them up. While the trip to Evanston wasn't what many expected, shutting out the Northwestern offense for almost three quarters and recovering from a 17 point deficit to escape unscathed is commendable in its own right. The defense is arguably the best in the country and Michigan believes (at least internally) in their new-look offense led by Shea Patterson. They responded by hammering Maryland behind Patterson's best game in a Michigan uniform. Now the real tests begin during a "prove it" three-game stretch starting with Wisconsin on Saturday.
---
3. Penn State Record: 4-1 (1-1) Previous Rank: N/A State: Licking their wounds

Oof. That fourth down play call deserves its own place all alone at the bottom of the Big Ten barrel. I'm not spending the next 2500 words explaining how awful that atrocity of a finish in Happy Valley was though. Penn State barely survived Appalachian State but ravaged the rest of their tune-up schedule with ease. The Nittany Lion defense has performed admirably given the turnover from last season. Trace McSorley, while still being an average passer, is one of the most dangerous quarterbacks in the country by virtue of his excellent decision making and vastly underrated legs. This is a good team. James Franklin let them down in their biggest moment. After a week off to get over their collapse, they need to regain their footing at home against a suddenly toothless Michigan State before they put their season on the line in Ann Arbor in a few weeks. Here's to keeping the ball in the hands of your best player for those season-defining moments, OK?
---
4. Wisconsin Record: 4-1 (2-0) Previous Rank: N/A State: Treading Water

They're better than their AP ranking but the distance between the Badgers and the hump they can't get over remains the same. Quarterback. Oh, things were supposed to be different this season. This was the year Wisconsin's quarterback broke from the game manager mold that's stuck with the position since Russel Wilson made a brief stop in Madison. A difference maker at the position could catapult this team to the playoff. Alex Hornibrook just isn't that guy. Against BYU he could only muster 190 yards on 28 attempts without a touchdown. He threw a costly pick. The ground game eclipsed the 200-yard mark but it wasn't enough and Wisconsin suffered an early, devastating loss before their real tests even begin. A mauling offensive line full of NFL talent and a defense that doesn't make many mistakes will carry Wisconsin to another good season. Familiar deficiencies under center will once again hold them back from a great season. This week in Ann Arbor will tell more than my words ever could.
---
5. Michigan State Record: 3-2 (1-1) Previous Rank: N/A State: On the edge of the cliff
I've been told his spot is high. Maybe it's just me. I said Michigan State was overrated before the season. Now that they've vastly underperformed, could the Spartans be underrated? They're not a conference contender but I assure you they're better than they've played. I think. Probably. They're going to lose the next two games to teams that are flat out better. How they perform and fight in those games will determine whether D'Antoni's team is a middling team that had a rough start or a true bottom feeder. I'm still a believer in the former.
(Editors Note: The misspelling is intentional.)
---
6. Iowa Record: 4-1 (1-1) Previous Rank: N/A State: Harvesting

The loss to Wisconsin will sting eternal when Hawkeye fans look back. The Badgers were on the ropes and down at Kinnick with a minute to play. Iowa just couldn't close and against a soft schedule, that may very well keep them out of Indy at the close of conference play. This team should win nine, maybe ten games but it will ring hollow when watching Wisconsin represent the Big Ten West again.
---
7. Northwestern Record: 2-3 (2-1) Previous Rank: N/A State: Healthier and confident
Pat Fitzgerald's squad is much better than people think. A slow start to the season hindered by a quarterback returning from a torn ACL had the Wildcats written off in September. The loss of running back Jeremy Larkin just piled on. They still have an uphill battle for a bowl bid but things have quickly changed in the past two weeks. The loss to Akron is the lone real disappointment but the otherwise harmless Zips have been known to put a scare into a Big Ten team here and there. It wasn't long ago Michigan needed a goal-line stand to avoid the same fate in Ann Arbor. That very talented team from Ann Arbor, Northwestern just had on the ropes for four quarters. The Wildcats proved that was no fluke by taking down that other school in Michigan IN East Lansing. They have a vastly underrated secondary in addition to All-Big Ten candidates in Paddy Fisher (LB) and Joe Gaziano (DL). Clayton Thorson (now fully healthy) is the most accurate passer in the conference with a clean pocket. I'm talking about precision ball placement in small windows. If you sleep on this team, you will lose. Just ask Michigan State.
---
8. Maryland Record: 3-2 (1-1) Previous Rank: N/A State: Still unknown
That surprising win over Texas looks better with each passing week. It also looks… flukier with each passing week. With a tumultuous offseason and their head coach on leave, it's no surprise the Terrapins have been up and down. They've mostly taken care of business but lost to an underwhelming Temple team and didn't look competitive in Ann Arbor last week. Sandwiched between those disappointments was a pounding of Minnesota. The only concrete sentiment I've gathered is that Ty Johnson is good. Really good. As to where they really stand on a weekly basis, your guess is as good as mine.
---
9. Indiana Record: 4-2 (1-2) Previous Rank: N/A State: Spunky

It's fitting that Maryland precedes the truly clustered bottom portion of the Big Ten. You can order these next four teams any way you'd like, I won't complain. If there's one thing the Hoosiers are good at, it's giving Buckeye fans anxiety issues for multiple quarters – final score be dammed. They still don't play much defense and probably won't finish off any good teams but they'll scare plenty along the way to fighting for a still up in the air bowl bid.
---
10. Purdue Record: 2-3 (1-1) Previous Rank: N/A State: Rebounding
Their season profiles similar to Northwestern, but against a weaker slate. That narrow loss to those Wildcats doesn't look as awful but there's no sugarcoating an inexplicable failure against Eastern Michigan. The last three weeks have provided a breath of hope with a valiant effort against Missouri followed by convincing wins over (then ranked) Boston College and Nebraska. Brohm's team isn't likely to reach back to back bowl games but there's no reason to panic yet. Unless another school (looking at you Louisville) lures him away after the season. Then just quit. Turn in your Big Ten card at the door.
---
11. Illinois Record: 3-2 (1-1) Previous Rank: N/A State: Taking what's there

Illinois is basically Minnesota except they've looked better in their losses and Lovie Smith might be the human being least like P.J. Fleck on the planet. Falling a tad short against USF looks commendable and for the fleetest of seconds, they looked like they could play with Penn State. If you don't look at the final score and you squint really hard, you can imagine a planet where the Fighting Illini make a bowl. That planet probably isn't Earth but hey, better than recent years have been.
---
12. Minnesota Record: 3-2 (0-2) Previous Rank: N/A State: Rowing Slowly

The Rowin' Gophers breezed through nonconference play before running into the wrong Terrapin hood. If it weren't for those meddling turnovers, they might've had a shot against Iowa last week. Good enough to beat the bad teams, probably not good enough to beat anyone else. Yawn. Wake me up in year five of the P.J. Fleck era. If he's still around of course.
---
13. Nebraska Record: 0-5 (0-3) Previous Rank: N/A State: LOL
HAHAHAHAHAHAHAHAHAHAHAHAHAHAHAHAHAHAHAHAHAHA SCOTT FROST SUCKS HAHAHAHAHAHAHAHAHAHAHAHAHAHAHAHAHAHAHAHAHAHAHAHAHAHAHAHAHAHA
---
14. Rutgers Record: 1-5 (0-3) Previous Rank: N/A State: FCS Playoff Contender

That's being generous.
---
Comments
REPORT: Former Notre Dame running back charged with murder of 5-year-old girl
According to reports, former Notre Dame running back Cierre Wood has been charged with the murder of a 5-year-old girl.
From KLAS Las Vegas:
A former NFL player arrested in Las Vegas is now facing a murder charge in a child's death, according to Metro Police.
Cierre Wood, 28, was arrested Wednesday on 1st-degree child abuse and neglect charges. The murder charge was added Thursday.
Amy Taylor was also arrested and faces charges for child abuse and neglect. Her relationship to Wood is not known, at this time.
According to the Clark County Coroner's Office, La-Rayah Davis, 5, died as a result of child abuse. Her relationship to Wood is also not known.
Comments
MUST SEE: Tom Izzo makes hilarious offer!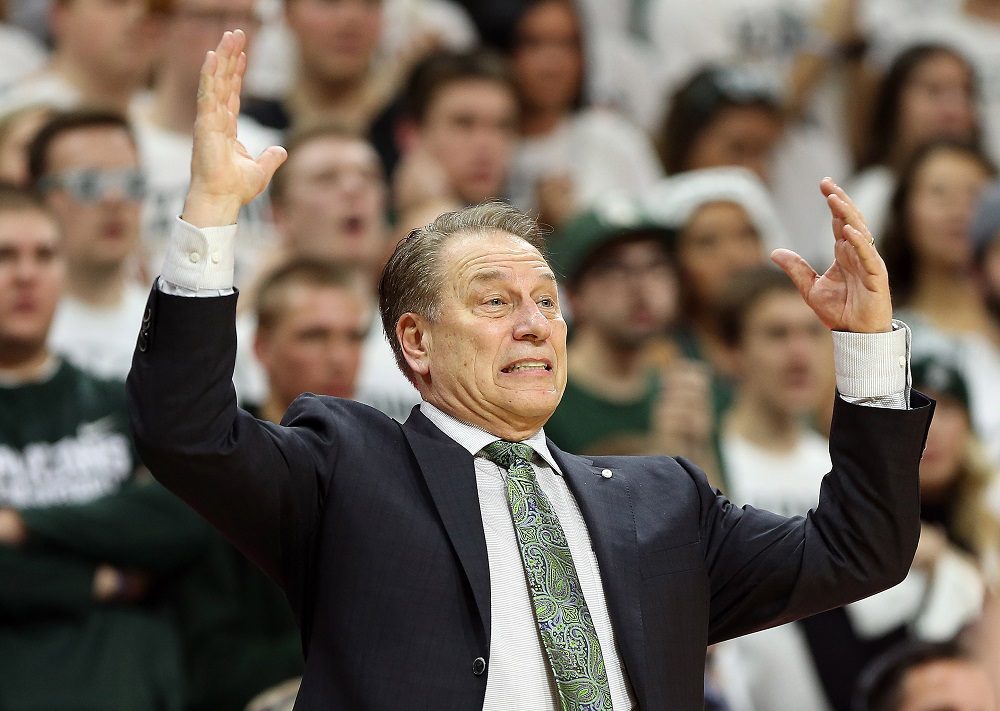 Following the Michigan State Spartans victory over Duke to advance to the Final Four, there was quite the celebration in East Lansing. Students took to the streets and a few unfortunate couches were burned. This didn't go unnoticed by head coach Tom Izzo, who had had some humor over the whole situation!
Tom Izzo doesn't like it when things get out of hand in East Lansing. So he offered his couch to burn in his pond.

"My wife was ecstatic about it because she wants a new couch." pic.twitter.com/5zpvSljpvp

— Brad Galli (@BradGalli) April 2, 2019
Anyone want to take up Izzo on his offer?
BONUS CONTENT:
Classy! Michigan State's Cassius Winston and Nick Ward console Duke's Tre Jones
In case you missed this from yesterday (we did), following Michigan State's win over Duke to go to the Final Four, Duke guard Tre Jones was overcome with emotion near midcourt.
When Spartans forward Nick Ward and guard Cassius Winston noticed Jones, they immediately went over and consoled him
Check it out.
.@DukeMBB guard Tre Jones was bent double with emotion. Teammates tried to console him and @MSU_Basketball's Nick Ward and Cassius Winston took time to do the same. Pure class. pic.twitter.com/ZDWgHirTDq

— Jeff Gravley (@jgravleyWRAL) April 1, 2019
Pure class by a couple of Spartan players who had just won the biggest game of their lives.
BONUS CONTENT:
Must see! Tom Izzo gets dance lessons in locker room after win
The dragon has been slain!
On Sunday, Michigan State was clearly on a mission and they accomplished that mission by defeating No. 1 Duke to advance to the Final Four.
For Spartans head coach Tom Izzo, it is his 8th Final Four in 24 years and he will be looking to win his second National Championship.
Following the conclusion of the game and after the Spartans were finished cutting down the nets, Izzo and his team went to their locker room to celebrate.
Watch as Izzo gets some dancing lessons following the big win.
Izzo and Sparty dancing to the #FinalFour

(via @MSU_Basketball)pic.twitter.com/JcC7prcVZQ

— Sports Illustrated (@SInow) April 1, 2019
BONUS CONTENT:
MSU students celebrate by burning things in East Lansing
Michigan State fans are among those who love to burn things after winning a big game and they proved that once again after the Spartans took down No. 1 Duke to advance to the Final Four.
Following the final buzzer, a plethora of Spartans fans took to the streets of East Lansing and had some fun while burning things and chanting "F*%k you Zion."
Thanks to Claire Moore on Twitter, here is how it went down from her perspective.
The scene at Cedar Village on campus as People start to gather and chant "Final Four!" following MSU's win against Duke @thesnews pic.twitter.com/V6yBumghQT

— Claire Moore (@moorefromclaire) March 31, 2019
Crowd is fully running onto Grand River, told to get off the road by police. @thesnews

— Claire Moore (@moorefromclaire) March 31, 2019
Crowd moving up the street. Lots of expletives against Duke and Zion ringing out. Police maintaining a presence. @thesnews pic.twitter.com/N5fFqKSX2w

— Claire Moore (@moorefromclaire) March 31, 2019
Two crowds gathered on either side of Grand River Ave by Subway and Quality Dairy. Chanting "Go green, go white" as cars drive by honking in response @thesnews

— Claire Moore (@moorefromclaire) March 31, 2019
Traffic backed up a bit here @thesnews pic.twitter.com/T6FCcE8U0p

— Claire Moore (@moorefromclaire) March 31, 2019
Big crowd has circled back to the middle of Cedar Village. @thesnews pic.twitter.com/XfGnTVK5ud

— Claire Moore (@moorefromclaire) March 31, 2019
Crowd chanting up to a group of guys in their apartment to "bring it out" and "burn the couch." Will update if a couch is brought out but the officers standing next to me might not be down with that. @thesnews

— Claire Moore (@moorefromclaire) March 31, 2019
31 degrees in East Lansing right now hasn't yet deterred this crowd. Still lots of chanting going on. Beer cans are being thrown around. @thesnews pic.twitter.com/VTs3c0VEwx

— Claire Moore (@moorefromclaire) March 31, 2019
There's the fire. Not sure what was lit but I saw pizza boxes being moved toward this, possible kindling. DTN with fire extinguishers. @thesnews pic.twitter.com/PQkdN9WyT6

— Claire Moore (@moorefromclaire) March 31, 2019
Just confirmed it was a chair brought out. Someone just added a longboard to the fire. @thesnews

— Claire Moore (@moorefromclaire) March 31, 2019
Police donning riot gear. Standing next to them. @thesnews

— Claire Moore (@moorefromclaire) March 31, 2019
Shaky video but police just moved into the crowd. @thesnews pic.twitter.com/YJOeBAtseW

— Claire Moore (@moorefromclaire) April 1, 2019
Comments
MUST SEE: ESPN's Scott Van Pelt addresses drama between Tom Izzo and Aaron Henry
Though the Michigan State Spartans are on their way to the Sweet 16 for the first time in four years, it wasn't without some notable controversy. Head coach Tom Izzo had to be restrained on two separate occasions after voicing his frustrations with freshman player Aaron Henry during the Spartans' opening round matchup again Bradley.
ESPN's Scott Van Pelt decided to take some time and offer his thoughts on the controversy – or unnecessary controversy.
Do you agree?
BONUS CONTENT:
Highlights from Michigan State's victory over Minnesota
For the first time in four years, the Michigan State Spartans have advanced to the Sweet 16!
Their 70-50 victory over the Minnesota Golden Gophers in Des Moines, Iowa sealed their trip to Washington D.C. for the Sweet 16/Elite 8 for a matchup against LSU on Friday, March 29. Tip-off time has yet to be scheduled.
The Spartans were led in scoring by Xavier Tillman with 14 points, while Cassius Winston added 13 points. Four players scored 9 apiece. Check out some of the top highlights from the win!
BONUS CONTENT:
Aaron Henry's comments on being berated by Michigan State's Tom Izzo are perfection
Michigan State basketball coach Tom Izzo was not happy on Thursday during his No. 2 Spartans 11 point win over No. 15 Bradley.
This was obvious by Izzo's actions toward Aaron Henry. On two separate occasions, Izzo had to be held back by Spartans' players as he tried to get in the face of Henry.
WATCH: Michigan State's Tom Izzo explodes at Aaron Henry, needs to be restrained…TWICE!
Anyone who has followed Izzo knows this is nothing new and that he had been challenging his players like this for many years.
Following the game, Henry was asked about getting yelled at by Izzo and his answer was perfect.
From the MSU locker room, Aaron Henry sure didn't have a problem getting yelled at by Tom Izzo: "It's nothing new, it's just responding to it, accepting the coaching, not having a pity party for yourself, just being a basketball player and go respond."

— Matt Charboneau (@mattcharboneau) March 21, 2019
Tom Izzo is a great coach who has always tried to get the most out of his players. Sometimes that means getting fired up and yelling at them.
Deal with it.
Comments