5 Tournament teams that could bust your bracket
Nothing is more American than filling out an NCAA Tournament bracket this time of the year. Maybe perhaps more American are the countless people filling them out and picking teams left and right, acting like they know what they hell they are doing after admittedly watching little-to-no basketball during the season (you know who you are).
Regardless of your level of fandom for the sport, one constant remains when filling out a bracket: which under-seeded teams will upset the opposition and subsequently bust said bracket? We see it every year. Sometimes it is a trendy mid-major, sometimes it's the higher-seed just getting flat ambushed by the "little guy" catching lightning in a bottle, or a combination of both.
These are the true bracket-busters. The key is finding the handful or so that will pull off the upset. With regards to this year's big dance, here are five teams to keep an eye out for.
SAN DIEGO STATE
It's good to see San Diego State back dancing. After a two-year hiatus, the Aztecs have returned to the field of 68 on the heels of a conference tournament title.
This most definitely is not uncharted waters for SDSU, they made the tournament six straight years from 2010-15, ranging from as high as a 2-seed to as low as an 11-seed, which is what they were given this season. They posted a 6-5 tournament record during that span as well. It's safe to say that these Aztecs are not your ordinary 11-seed. And they come into the dance one of the hotter teams in the country, winners of nine straight that included a pair of wins over Mountain West regular-season champion Nevada.
SDSU already popped a bubble or two on Selection Sunday, now they look to bust some brackets here and there. The Aztecs will open up tournament play against the 6-seed Cougars of Houston, who are making their first showing in the bracket since 2010 and second in 26 years. Should they get by Houston, they'd have a date with either (3) Michigan or (14) Montana. A third Sweet 16 appearance in eight years is a very logical possibility for the San Diego State.
NEW MEXICO STATE
Like the Aztecs, New Mexico State is no stranger to the tournament. The Aggies are representing the WAC for the second straight year and eighth time in the last 12 years.
Carrying a top-10 scoring defense and three-point field goal percentage defense nationally, the Aggies ranked at or near the top in every major defensive category in their league this season. And with regards to their schedule, they've done what mid-majors have been encouraged to do: challenge themselves with top-tier programs. Two of the Aggies' 28 wins are over a pair of teams in the field in (6) Miami-FL and (12) Davidson. They also have a win over Illinois this year, and gave teams like Southern Cal and Saint Mary's real fits in losing efforts.
NMSU drew Clemson this year, who was picked preseason to finish 13th in the ACC but finished in a four-way tie for 3rd this year. Despite the Tigers being much improved, they are just 4-8 against the rest of the ACC that is dancing. And for whatever it is worth, of the eight teams playing out in San Diego for the first weekend of the tournament, New Mexico State has by far the shortest travel.
| | |
| --- | --- |
| TEAM | DISTANCE |
| NEW MEXICO STATE | 681.3 mi |
| WICHITA STATE | 1,363 mi |
| MURRAY STATE | 1,915.4 mi |
| AUBURN | 2,058 mi |
| CLEMSON | 2.263.2 mi |
| MARSHALL | 2,265.8 mi |
| WEST VIRGINIA | 2,430.8 mi |
| COLL. OF CHARLESTON | 2,438.5 mi |
LOYOLA-CHICAGO
Welcome back, Ramblers! The Chicago-based Loyola University has returned to the tournament for the first time since 1985 and the sixth time ever in the program. Loyola is one of the charter "Cinderella" members when they hoisted the trophy in 1963 without substituting any players in the title game.
Back to the present. This year's Ramblers secured their first Missouri Valley Conference title since joining the league back in 2013; the league is more wide open now since perennial power Wichita State left for the AAC.
You know how there's "3 and D" type of players? Well Loyola is a "3 and D" squad. Besides being one of the absolute stingiest teams defensively (5th nationally in PPG allowed at 62.2), the Ramblers also love to tee it up from deep and are efficient at doing so, a couple ticks under 40 percent as a club is good for top-20 in the country.
Miami-FL should be careful, especially if the Ramblers get on a hot streak early from outside. Both of these teams have a defensive-first mindset, which could play into Loyola's favor if the game is close from start to finish. Also, history is siding with the Ramblers in this one.
11-seed Loyola just a 2.5-point to 6-seed Miami. Missouri Valley teams are 8-0 in the Round of 64 over the last 5 years with 4 of the 8 wins coming as a lower seed.

— Chris Fallica (@chrisfallica) March 12, 2018
STEPHEN F. AUSTIN
History lesson, kids. Stephen F. Austin is considered the "Father of Texas" for his early-1800's entrepreneur work in colonizing the region. The university named after him has turned into a steady mid-major program on the hardwood.
The 14-seed Lumberjacks (fitting, right?) are carrying the Southland flag for the fourth time in five years; fifth time ever. And in this current five-year window, they have collected a pair of first-round tournament wins, including two years ago as a 14-seed when they bounced West Virginia on day one; they narrowly upset Notre Dame that year as well, losing 76-75.
Not much is different with this SFA club compared to their recent bracket-busting teams, as in they still score at an efficient rate (81.1 PPG – 35th in NCAA) and create multiple opportunities for their offense by pressuring their opposition at a crazy clip (nearly 20 turnovers forced per game – 1st in NCAA). It's a recipe that has worked for them.
This could end up being one of the more entertaining first-round games when Stephen F. Austin plays 3-seed Texas Tech in Dallas. The Red Raiders have had their best basketball season since probably the Bob Knight era nearly two decades ago. Tech was the best defensive team in a high-powered Big 12 Conference this year, so something has to give in this game. Don't be afraid to take the 'Jacks though.
Since 2012 Big 12 has had 15 Top 3 seeds, 4 have lost in the 1st round. Rest of country has 5 in that span. Texas Tech in danger vs SFA?

— Chris Fallica (@chrisfallica) March 13, 2018
SOUTH DAKOTA STATE
It's five trips to the tournament in the last seven seasons for South Dakota State, which accounts for all of their trips in program history. The Jackrabbits (leader in the clubhouse for best nickname?) are 0 for their first four visits, but seem extra prepared to bust a bracket or two.
Two words: Mike Daum. He's probably the best player in the country that nobody knows about. It's not every day that a true mid-major is carrying around an NBA prospect on their team, but that's the case with SDSU. The Daum-inator had the highest-scoring per game average from last year (25.1 PPG) to return to school this season (23.8 PPG). And as if averaging a double-double wasn't impressive enough, the 6-9 and 245-pound Daum is shooting over 42 percent from three-point land, indicative of the Jackrabbits' 40+ percent shooting from deep as a team.
Simply put, he's an absolute matchup nightmare, inside and out.
In addition to South Dakota State's prolific shooting ability, they crash the boards (top 15 nationally in total rebounds) to limit second chances for the opponent and take care of the basketball (top 20 nationally in fewest turnovers committed). And as if Ohio State was not going to have enough problems slowing down Daum, SDSU has another pair of double-digit scorers in David Jenkins Jr. and Reed Tellinghuisen, both of whom are shooting a shade under 40 percent from deep.
Comments
REPORT: Former Notre Dame running back charged with murder of 5-year-old girl
According to reports, former Notre Dame running back Cierre Wood has been charged with the murder of a 5-year-old girl.
From KLAS Las Vegas:
A former NFL player arrested in Las Vegas is now facing a murder charge in a child's death, according to Metro Police.
Cierre Wood, 28, was arrested Wednesday on 1st-degree child abuse and neglect charges. The murder charge was added Thursday.
Amy Taylor was also arrested and faces charges for child abuse and neglect. Her relationship to Wood is not known, at this time.
According to the Clark County Coroner's Office, La-Rayah Davis, 5, died as a result of child abuse. Her relationship to Wood is also not known.
Comments
MUST SEE: Tom Izzo makes hilarious offer!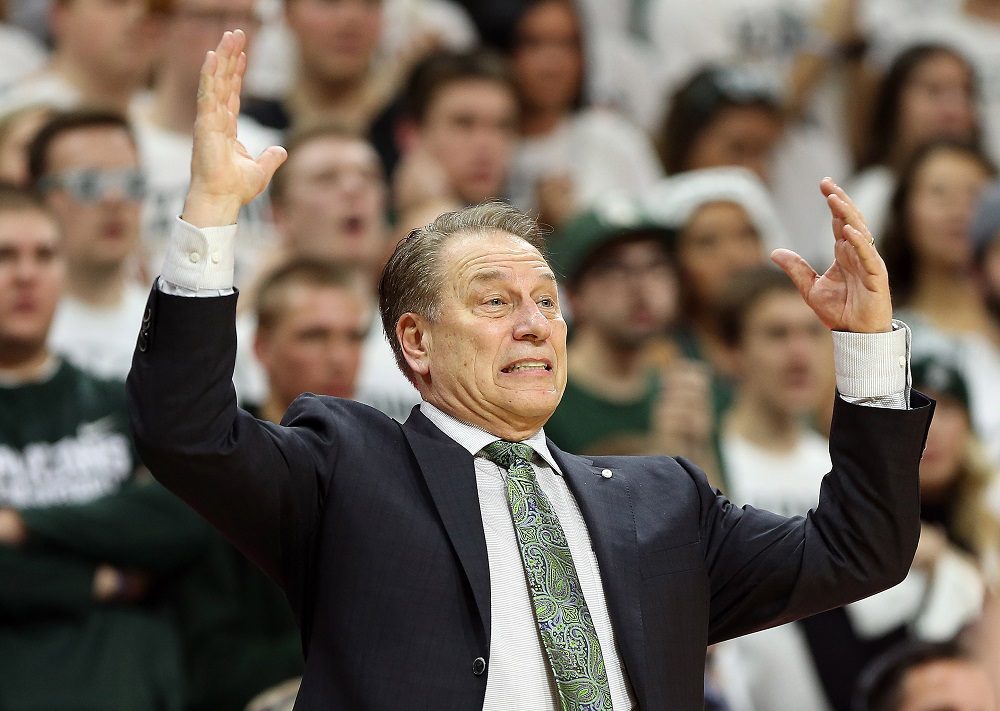 Following the Michigan State Spartans victory over Duke to advance to the Final Four, there was quite the celebration in East Lansing. Students took to the streets and a few unfortunate couches were burned. This didn't go unnoticed by head coach Tom Izzo, who had had some humor over the whole situation!
Tom Izzo doesn't like it when things get out of hand in East Lansing. So he offered his couch to burn in his pond.

"My wife was ecstatic about it because she wants a new couch." pic.twitter.com/5zpvSljpvp

— Brad Galli (@BradGalli) April 2, 2019
Anyone want to take up Izzo on his offer?
BONUS CONTENT:
Classy! Michigan State's Cassius Winston and Nick Ward console Duke's Tre Jones
In case you missed this from yesterday (we did), following Michigan State's win over Duke to go to the Final Four, Duke guard Tre Jones was overcome with emotion near midcourt.
When Spartans forward Nick Ward and guard Cassius Winston noticed Jones, they immediately went over and consoled him
Check it out.
.@DukeMBB guard Tre Jones was bent double with emotion. Teammates tried to console him and @MSU_Basketball's Nick Ward and Cassius Winston took time to do the same. Pure class. pic.twitter.com/ZDWgHirTDq

— Jeff Gravley (@jgravleyWRAL) April 1, 2019
Pure class by a couple of Spartan players who had just won the biggest game of their lives.
BONUS CONTENT:
Must see! Tom Izzo gets dance lessons in locker room after win
The dragon has been slain!
On Sunday, Michigan State was clearly on a mission and they accomplished that mission by defeating No. 1 Duke to advance to the Final Four.
For Spartans head coach Tom Izzo, it is his 8th Final Four in 24 years and he will be looking to win his second National Championship.
Following the conclusion of the game and after the Spartans were finished cutting down the nets, Izzo and his team went to their locker room to celebrate.
Watch as Izzo gets some dancing lessons following the big win.
Izzo and Sparty dancing to the #FinalFour

(via @MSU_Basketball)pic.twitter.com/JcC7prcVZQ

— Sports Illustrated (@SInow) April 1, 2019
BONUS CONTENT:
MSU students celebrate by burning things in East Lansing
Michigan State fans are among those who love to burn things after winning a big game and they proved that once again after the Spartans took down No. 1 Duke to advance to the Final Four.
Following the final buzzer, a plethora of Spartans fans took to the streets of East Lansing and had some fun while burning things and chanting "F*%k you Zion."
Thanks to Claire Moore on Twitter, here is how it went down from her perspective.
The scene at Cedar Village on campus as People start to gather and chant "Final Four!" following MSU's win against Duke @thesnews pic.twitter.com/V6yBumghQT

— Claire Moore (@moorefromclaire) March 31, 2019
Crowd is fully running onto Grand River, told to get off the road by police. @thesnews

— Claire Moore (@moorefromclaire) March 31, 2019
Crowd moving up the street. Lots of expletives against Duke and Zion ringing out. Police maintaining a presence. @thesnews pic.twitter.com/N5fFqKSX2w

— Claire Moore (@moorefromclaire) March 31, 2019
Two crowds gathered on either side of Grand River Ave by Subway and Quality Dairy. Chanting "Go green, go white" as cars drive by honking in response @thesnews

— Claire Moore (@moorefromclaire) March 31, 2019
Traffic backed up a bit here @thesnews pic.twitter.com/T6FCcE8U0p

— Claire Moore (@moorefromclaire) March 31, 2019
Big crowd has circled back to the middle of Cedar Village. @thesnews pic.twitter.com/XfGnTVK5ud

— Claire Moore (@moorefromclaire) March 31, 2019
Crowd chanting up to a group of guys in their apartment to "bring it out" and "burn the couch." Will update if a couch is brought out but the officers standing next to me might not be down with that. @thesnews

— Claire Moore (@moorefromclaire) March 31, 2019
31 degrees in East Lansing right now hasn't yet deterred this crowd. Still lots of chanting going on. Beer cans are being thrown around. @thesnews pic.twitter.com/VTs3c0VEwx

— Claire Moore (@moorefromclaire) March 31, 2019
There's the fire. Not sure what was lit but I saw pizza boxes being moved toward this, possible kindling. DTN with fire extinguishers. @thesnews pic.twitter.com/PQkdN9WyT6

— Claire Moore (@moorefromclaire) March 31, 2019
Just confirmed it was a chair brought out. Someone just added a longboard to the fire. @thesnews

— Claire Moore (@moorefromclaire) March 31, 2019
Police donning riot gear. Standing next to them. @thesnews

— Claire Moore (@moorefromclaire) March 31, 2019
Shaky video but police just moved into the crowd. @thesnews pic.twitter.com/YJOeBAtseW

— Claire Moore (@moorefromclaire) April 1, 2019
Comments
MUST SEE: ESPN's Scott Van Pelt addresses drama between Tom Izzo and Aaron Henry
Though the Michigan State Spartans are on their way to the Sweet 16 for the first time in four years, it wasn't without some notable controversy. Head coach Tom Izzo had to be restrained on two separate occasions after voicing his frustrations with freshman player Aaron Henry during the Spartans' opening round matchup again Bradley.
ESPN's Scott Van Pelt decided to take some time and offer his thoughts on the controversy – or unnecessary controversy.
Do you agree?
BONUS CONTENT:
Highlights from Michigan State's victory over Minnesota
For the first time in four years, the Michigan State Spartans have advanced to the Sweet 16!
Their 70-50 victory over the Minnesota Golden Gophers in Des Moines, Iowa sealed their trip to Washington D.C. for the Sweet 16/Elite 8 for a matchup against LSU on Friday, March 29. Tip-off time has yet to be scheduled.
The Spartans were led in scoring by Xavier Tillman with 14 points, while Cassius Winston added 13 points. Four players scored 9 apiece. Check out some of the top highlights from the win!
BONUS CONTENT:
Aaron Henry's comments on being berated by Michigan State's Tom Izzo are perfection
Michigan State basketball coach Tom Izzo was not happy on Thursday during his No. 2 Spartans 11 point win over No. 15 Bradley.
This was obvious by Izzo's actions toward Aaron Henry. On two separate occasions, Izzo had to be held back by Spartans' players as he tried to get in the face of Henry.
WATCH: Michigan State's Tom Izzo explodes at Aaron Henry, needs to be restrained…TWICE!
Anyone who has followed Izzo knows this is nothing new and that he had been challenging his players like this for many years.
Following the game, Henry was asked about getting yelled at by Izzo and his answer was perfect.
From the MSU locker room, Aaron Henry sure didn't have a problem getting yelled at by Tom Izzo: "It's nothing new, it's just responding to it, accepting the coaching, not having a pity party for yourself, just being a basketball player and go respond."

— Matt Charboneau (@mattcharboneau) March 21, 2019
Tom Izzo is a great coach who has always tried to get the most out of his players. Sometimes that means getting fired up and yelling at them.
Deal with it.
Comments