Detroit Lion who thought moon landing was staged changes his mind
If you have been paying attention to the world of sports as of late, you have probably at least heard the mention that Golden State Warriors guard Steph Curry does not believe in the moon landing.
Well, since taking some heat, Curry has backtracked on his original comments, saying he was just joking around.
Curry made the national headlines for his comments but we have our own athlete right here in Michigan who also had been saying that the moon landing never happened.
That's right, according to MLive, Lions tight end Luke Willson had been "talking for weeks" about how the moon landing was staged. Now, in light of the Steph Curry situation, Wilson is also backtracking on his stance.
From MLive:
"Some events happened in my life, and I'm going the other way with it, bro. I might actually believe in the moon landing," Willson said after a walk-through on Wednesday. "I don't want to drop any names, but I met someone who knows someone, one of those deals. (I said), 'You know, I should probably re-evaluate my stance on that.' So I have. I now believe people were on the moon."
What was your initial hesitation?
"America likes to lie," Willson said. "Bay of Pigs, case in point, you know? That's all."
And you're completely sold now?
"I believe that America landed on the moon," he said. "Put it in the papers, man. Write it down."
What about Steph Curry?
"I think that he needs to be educated," he said. "I believe America landed on the moon. You heard it out of the horse's mouth."
BONUS CONTENT:
Breaking down the Detroit Lions playoff chances and why they WILL get in
Ok, I know this is a BOLD prediction but I believe the Detroit Lions will somehow, someway squeeze their way into the NFL Playoffs.
With their win over the Arizona Cardinals on Sunday, the Lions moved to 5-8 and kept their slim playoff hopes alive.
In fact, following the Minnesota Vikings loss the Seattle Seahawks on Monday Night Football, those hopes actually improved as the Lions playoff chances, according to FiveThirtyEight, went from 1% to 3%!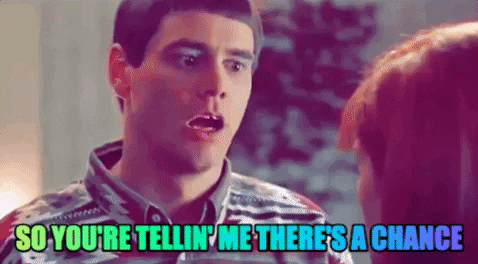 You are probably thinking one of two things right now. 1) This guy is a complete clown if he believes the Lions are going to make the playoffs, I am not reading any more of his BS or 2) I may as well see what this clown has to say since he took the time to write it out.
Well, my hope is that you are still reading because I am about to tell you exactly why I believe the Lions WILL make the NFL Playoffs.
Lions chances…in a vacuum
Believe it or not, the Lions could find themselves in the playoffs even if they lose one of their remaining three games but the chances of that are VERY SLIM. So, my focus in this piece will be predicated on them winning out and letting the chips fall where they may.
First, let's look at how the Lions playoff chances increase (in a vacuum) with them winning each of their remaining three games.
*Note: This does not take into account what other teams in the league do, we will look at that later. Also, I am not going to get into tie games because all of our heads would explode.
To read the rest of the article, please click on the link below.
https://detroitsportsnation.com/detroit-lions-news/ddrysdale/breaking-down-the-detroit-lions-playoff-chances-and-why-they-will-get-in/12-2018/199183/
Comments
Detroit Lions 'All-Local' 2019 NFL Mock Draft
This coming Thursday, the 2019 NFL Draft will officially begin.
Over the past few months, if you are anything like me, you have read literally hundreds upon hundreds of Detroit Lions' mock drafts.
So, I figured it would be fun to think outside the box (but inside the state) to come up with what an 'All-local' Lions draft could look like.
Check it out.
Round 1 – Devin Bush Jr. (LB) Michigan or Rashan Gary (DL) Michigan
Round 2 – Justin Layne (CB) Michigan State or David Long (CB) Michigan
Round 3 – Sean Bunting (CB) Central Michigan or Chase Winovich (DL) Michigan
Round 4 – Maxx Crosby (Edge) Eastern Michigan
Round 5 – Khari Willis (S) Michigan State
Round 6 – Xavier Crawford (CB) Central Michigan
Round 6 – Karan Higdon (RB) Michigan
Round 7 – Zach Gentry (TE) Michigan
Round 7 – LJ Scott (RB) Michigan State
Now, I know there is a .0000001% chance of this actually happening, but those players should be available when the Lions are on the clock in each round.
If you want to read my 'Detroit Lions' Perfect 2019 NFL mock draft' please click on the link below. It also includes a local player.
Comments
JUST IN: Detroit Lions drop 2019 schedule hype video
The 2019 NFL Draft is less than a week away and on Friday the team dropped a 2019 schedule hype video.
Check it out!
Hyped up for the 2019 season! pic.twitter.com/bBrQpBMKIz

— Detroit Lions (@Lions) April 19, 2019
Nation, what will the Lions record be in 2019?
Comments
REPORT: Detroit Lions meet with standout cornerback
The NFL Draft will be here before we know it and the Detroit Lions are putting their final touches on their preparations.
According to a report from Matt Miller, the Lions have met with former Central Michigan standout CB, Sean Bunting.
Sean Bunting is one of my favorite CBs in the class. Also one of the best press man guys. He's had workouts or visits with:

Giants
Steelers
Lions
Packers
Cardinals
Seattle
49ers
Texans
Chargers
Bills
Titans
Jets
Bucs
Saints
Falcons
Rams
Chiefs
Giants
Ravens

— Matt Miller (@nfldraftscout) April 19, 2019
Bunting, who is expected to be drafted on Day 2, had 104 tackles and nine interceptions in 35 career games with the Chippewas.
BONUS CONTENT:
Detroit Lions' Perfect 2019 NFL Mock Draft: Final Edition
It has been a marathon but we are almost to the promised land which is the 2019 NFL Draft!
After hours and hours of research, all of the so-called "experts" will soon be unveiling their final mock draft of the season and none of them will end up being correct.
I, on the other hand, do not claim to be an expert. Instead, I am just a huge fan of the Detroit Lions who happens to believe to know what the Lions' biggest needs are and which available prospects can fill those needs.
That being said, here is my final crack at what I believe the "perfect" Detroit Lions' draft would look like.
*Remember, this is NOT what I think Lions' GM Bob Quinn WILL do in the upcoming draft, it is what I think he SHOULD do.
Round 1, Pick 8
Ed Oliver (DL) Houston
Oliver is an absolute beast and he could come in and make an immediate impact for a Lions defense that should be greatly improved in 2019.
From Dane Brugler (The Athletic):
STRENGTHS: Fluid body control to wriggle off blocks…excellent foot quickness and change of direction skills…shot out of a cannon with his first step…forces holding penalties due to his gap quickness…creates knockback with his speed-to-power skills…ball awareness to track through blocks…uses natural leverage to stay underneath the pads of blockers…better than expected play strength as a run defender…highly aggressive motor and effort never wanes, chasing down plays near the sidelines…dominated from the moment he stepped onto campus and leaves as a three-time All-American, collecting 54.0 tackles for loss over 33 career starts.
WEAKNESSES: Lacks desired frame and length…needs to continue and develop his body and stay in the 280-285 pound range (weighed 274 for most of his final season at Houston)…relied more on motor than brute power to overwhelm blockers in college…not a bull rusher…undeveloped approach with his hands…below- average counter measures once locked up…faced inferior competition in the AAC…several immature moments in college, including an on-field altercation with head coach Major Applewhite regarding a coat issue on the sideline — Oliver has a "young attitude" and has "growing up to do," according to an NFL scout…missed five games as a junior with a right knee bruise (November 2018) and was limited at the combine with a strained hamstring (February 2019).
SUMMARY: A three-year starter at Houston, Oliver was one of college football's most disruptive players over the last three years, spending most of his time at nose tackle for the Cougars. With his football flexibility and natural biomechanics, he has rare athletic ability for the position with the backfield vision to recognize play designs and disrupt from different angles. Oliver still requires time to develop his body, mind and technique at the next level. He will struggle with long-armed blockers who get to his frame and control his chest, but his energy and motor are both elite. Overall, Oliver won't be a natural fit for every NFL scheme, but he is an ideal one-gap penetrator due to his athleticism, instincts and relentless nature, projecting best when he is lined up closest to the football.
Comments