FIRST LOOK: New black seats at Little Caesars Arena make an appearance
Little Caesars Arena announced in October that they'd be soon replacing the bright red seats in the arena with black ones as a way to combat the unsightly sparse crowds attending both Detroit Red Wings and Pistons games. The reasoning being that black seats don't stand out on television as much as the bright red upholstery did when nobody occupied them.
Though the project was supposed to have been finished by December, black seat covers were used in the lower bowl until the replacements arrived. And now it appears as though the project is finally underway.
First look: some of the new seats at Little Caesars Arena have been installed. pic.twitter.com/eJhGI3TPy8

— Detroit Sports Media (@TheDSportsMedia) March 7, 2019
What do you think of the new look?
BONUS CONTENT:
Chris Ilitch mum on potential Steve Yzerman reunion
Ever since it was announced that Steve Yzerman was stepping down as general manager of the Tampa Bay Lightning despite having one year on his contract left, speculation has run rampant that a return to the Detroit Red Wings was in the works. He is still with the Lightning as an advisor.
Yzerman still maintains a home in the metro-Detroit area, and his family remained here even as he worked in Florida. Meanwhile, current general manager Ken Holland still has one year remaining on a two-year pact he agreed to this past offseason.
While discussing the Detroit Tigers on Saturday, Tigers chairman and CEO Chris Ilitch was asked about the potential return of Yzerman. However, he kept things simple when asked if he's reached out to the former captain.
"No, we have not done that," Ilitch responded. "He is under contract and we generally have a rule within our organization not talking about executives or others who are under contract with another organization."
"There's not a lot I can say about that other than I know his contract is expiring this summer, and leave it at that."
Comments
BREAKING: Pistons' forward Blake Griffin's Game 2 status revealed
In Game 1, the Detroit Pistons were without their best player Blake Griffin and they were blown out by the Milwaukee Bucks in Game 1 of the Eastern Conference quarterfinals.
Well, if the Pistons want to steal a game in Milwaukee before heading back to Detroit, they will have to do so without Griffin as he has been ruled OUT for Wednesday night's game.
Blake Griffin is inactive. #Pistons

— Vince_Ells56 (@Vincent_Ellis56) April 17, 2019
Nation, do the Pistons even stand a chance tonight? What is your score prediction?
Comments
Casey: Griffin trying to convince medical staff he can play
The report that Detroit Pistons fans were dreading came out this morning – star forward Blake Griffin is likely to miss the entire first round of the playoffs against the Milwaukee Bucks. Of course, that comes on the heels of a Game 1 blowout loss to the Bucks in which the team was thoroughly embarrassed in nearly every facet.
Despite this, according to Pistons writer Keith Langlois, Griffin still wants to be out on the floor despite a nagging knee injury.
Dwane Casey says Blake Griffin is lobbying to play but decision is in hands of medical team

— Keith Langlois (@Keith_Langlois) April 15, 2019
"If it was my decision, I would've played," Griffin told ESPN after Game 1.
BONUS CONTENT:
Dave Bing's awesome video intro
Things went from bad to worse for the Detroit Pistons.
Already overwhelmed by the relentless attack of Giannis Antetokounmpo and Eric Bledsoe, center Andre Drummond took out his frustration on Giannis Antetokounmpo, shoving the Greek Freak to the floor as he was going for a layup.
Andre Drummond has been assigned a Flagrant 2 and he's EJECTED!! pic.twitter.com/0jahWaJGWZ

— Cream City Central (@CreamCityCtral) April 15, 2019
Drummond was hit with a flagrant-2 foul and thrown from the game. Additionally, the inactive Blake Griffin was given a technical for arguing the call.
Pistons beat writer Rod Beard had this observation:
#Pistons Andre Drummond gets a flagrant-2 for that hard foul on Giannis. Blake Griffin (who is inactive) also gets a tech for arguing.

Yeah, this thing is going off the rails.

— Rod Beard (@detnewsRodBeard) April 15, 2019
Ouch.
BONUS CONTENT:
Andre Drummond responds to fan on Twitter
It was an ugly scene at Little Caesars Arena during the first half of Tuesday night's game between the Detroit Pistons and Memphis Grizzlies. The fact that Memphis was missing eight regulars from their lineup didn't stop the players on the floor from building a staggering 22 point lead over Detroit, leading to a chorus of boos from the fans in attendance.
However, the Pistons were able to mount a comeback for a dramatic 100-93 victory to inch closer to the Eastern Conference's playoff spot. Pistons center Andre Drummond had himself a good second half, with a renewed effort on the defensive end.
"I made a decision to start trapping in the second half," Drummond explained. "I told (assistant) coach Sweeney – 'I think we need to blitz them and make them speed up the game a little…..we made them play our game, we made them pick the pace up and they weren't ready for it."
Comments
LOOK: Pistons' Andre Drummond gets bent out of shape following tweet by Fox 2 reporter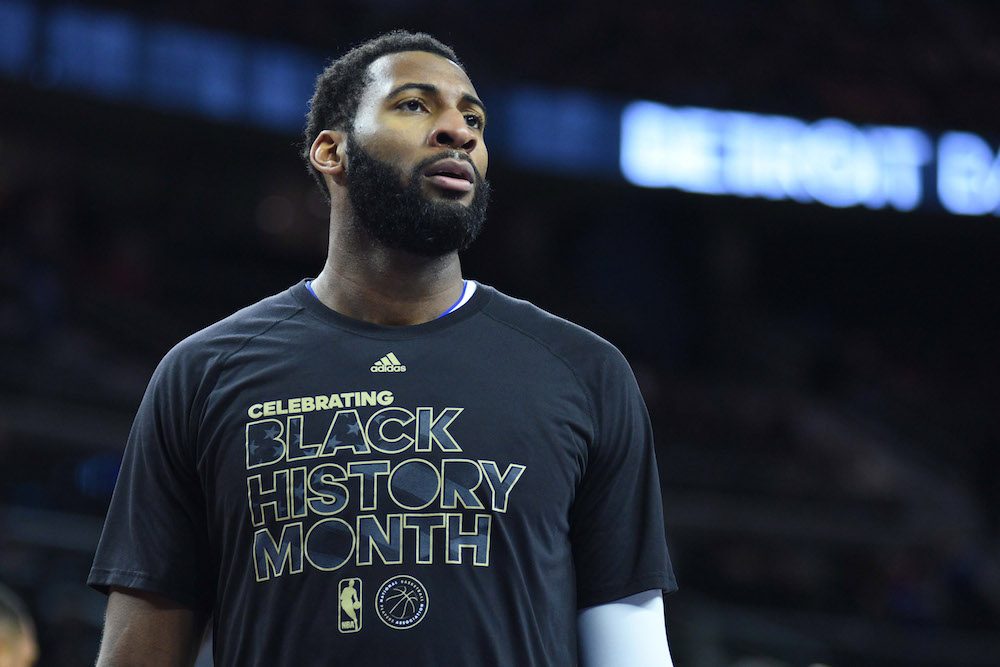 The Detroit Pistons were easily handled on Sunday by the Milwaukee Bucks in Game 1 of the Eastern Conference Quarterfinals. This does not come as much of a surprise as the Pistons were without their best player, Blake Griffin, and they were playing against a Bucks team that led the entire NBA in wins.
Late in the game Pistons' center Andre Drummond was ejected after shoving Giannis Antetokounmpo and being assessed a Flagrant 2 foul.
When Drummond was asked about how tough it was not to be able to finish the game because of his Flagrant 2, he replied, "I got to shower early."
When asked how tough it was not to be able to finish the game because of his flagrant -2 Drummond said "I got to shower early."

— Jennifer Hammond (@HammerFox2) April 15, 2019
As you can see from above Jennifer Hammond of Fox 2 tweeted out Drummond's comment, which she has every right to do. (In fact, it is part of her job)
Well, when Drummond caught wind of Hammond tweeting out WHAT HE SAID, he was clearly offended.
"See you Wednesday, Jennifer… have the same energy. I've been good to you my whole career and you want to turn the knife when we as a team is having a rough night! All good, @DetroitPistons we aren't dead it's only game one, let's turn things around on Wednesday!"
See you Wednesday Jennifer…. have that same energy. I've been good to you my whole career and you want to turn the knife when we as a team is having a rough night! All good, @DetroitPistons we aren't dead it's only game one, let's turn things around Wednesday!

— Andre Drummond (@AndreDrummond) April 15, 2019
Jennifer Hammond is a class act and she has always been a class act. If Andre Drummond does not want his comments to be reported, then he needs to refrain from saying them. Or at least, choose his words wisely.
Comments