Golden Gophers swat Yellow Jackets in Quick Lane Bowl
The biggest question heading into Wednesday's Quick Lane Bowl at Ford Field was, would the Minnesota Golden Gophers be able to slow down the top-ranked rushing attack of the Georgia Tech Yellow Jackets?
Well, that question was answered early and often as Minnesota dominated Georgia Tech from the get-go on way to a 34-10 victory.
Heading into the game, the Yellow Jackets had been averaging a whopping 334.9 rushing yards per game, which was more than any other team in the nation. Against the Golden Gophers, they were able to must just 206 yards on the ground and 77 yards through the air.
Minnesota, on the other hand, was able to rush for 260 yards which was nearly 100 yards more than the 163.8 ypg they averaged during the regular season.
Leading the way for the Golden Gophers freshman running back Mohamed Ibrahim, who carried the ball 31 times for 224 yards and two touchdowns. Also standing out was wide receiver Tyler Johnson, who caught four passes for 57 yards and a pair of touchdowns.
Following a last-second field goal to end the first half, it looked as if Georgia Tech has some life as they trailed 13-3 heading into the locker rooms.
But the second half ended up being a lot more of the same.
The Yellow Jackets got the ball to start the second half but they were forced to punt and Minnesota took advantage by putting together a 60-yard scoring drive to increase their lead to 20-3. Georgia Tech was not willing to go away quite yet as they immediately punched back with a 14-play, 75-yard drive to cut the Yellow Jacket lead back to 10.
Thank you to the 27,228 🏈 fans who made their way to Ford Field tonight for the @quicklanebowl! #QLB2018 pic.twitter.com/W7xD2LaX6H

— Ford Field (@fordfield) December 27, 2018
Unfortunately, for theYellow Jackets and their fans in attendance, that was the last time they would manage to find the end zone. As for the Golden Gophers, they would end up scoring touchdowns on their next two drives to seal the deal, 34-10.
Twitter: @QuickLaneBowl
"Trading One Uniform for Another"
For 2018, Quick Lane is proud to announce the third year of Trading One Uniform for Another – our scholarship program dedicated to helping support military veterans and first responders. With it, we're providing the opportunity for such deserving heroes to apply for or get nominated to receive one of five $10,000 scholarships to an accredited school offering an automotive mechanic certification program. Look for scholarship recipients to be awarded at this year's Quick Lane Bowl.
*In the spirit of full-disclosure, I've partnered with Quick Lane as part of the Quick Lane Bowl Preferred Influencer Program. I'll be receiving special access to the Quick Lane Bowl, however, no payment was given or expected for posting about the program and, as always, all opinions given here are fully my own.
I am currently a member of the Quick Lane Bowl Preferred Influencer Program and this post is part of my involvement. While Quick Lane provides me material and necessary resources to complete various activities, all statements and sentiment in Detroit Sports Nation are my own.
Comments
REPORT: Former Notre Dame running back charged with murder of 5-year-old girl
According to reports, former Notre Dame running back Cierre Wood has been charged with the murder of a 5-year-old girl.
From KLAS Las Vegas:
A former NFL player arrested in Las Vegas is now facing a murder charge in a child's death, according to Metro Police.
Cierre Wood, 28, was arrested Wednesday on 1st-degree child abuse and neglect charges. The murder charge was added Thursday.
Amy Taylor was also arrested and faces charges for child abuse and neglect. Her relationship to Wood is not known, at this time.
According to the Clark County Coroner's Office, La-Rayah Davis, 5, died as a result of child abuse. Her relationship to Wood is also not known.
Comments
MUST SEE: Tom Izzo makes hilarious offer!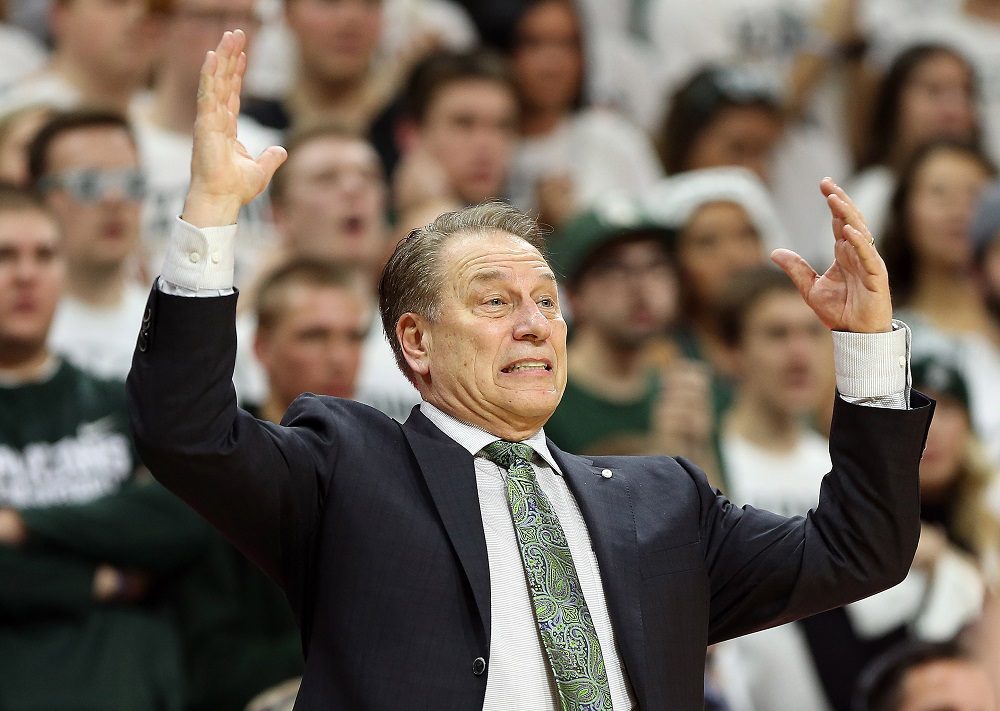 Following the Michigan State Spartans victory over Duke to advance to the Final Four, there was quite the celebration in East Lansing. Students took to the streets and a few unfortunate couches were burned. This didn't go unnoticed by head coach Tom Izzo, who had had some humor over the whole situation!
Tom Izzo doesn't like it when things get out of hand in East Lansing. So he offered his couch to burn in his pond.

"My wife was ecstatic about it because she wants a new couch." pic.twitter.com/5zpvSljpvp

— Brad Galli (@BradGalli) April 2, 2019
Anyone want to take up Izzo on his offer?
BONUS CONTENT:
Classy! Michigan State's Cassius Winston and Nick Ward console Duke's Tre Jones
In case you missed this from yesterday (we did), following Michigan State's win over Duke to go to the Final Four, Duke guard Tre Jones was overcome with emotion near midcourt.
When Spartans forward Nick Ward and guard Cassius Winston noticed Jones, they immediately went over and consoled him
Check it out.
.@DukeMBB guard Tre Jones was bent double with emotion. Teammates tried to console him and @MSU_Basketball's Nick Ward and Cassius Winston took time to do the same. Pure class. pic.twitter.com/ZDWgHirTDq

— Jeff Gravley (@jgravleyWRAL) April 1, 2019
Pure class by a couple of Spartan players who had just won the biggest game of their lives.
BONUS CONTENT:
Must see! Tom Izzo gets dance lessons in locker room after win
The dragon has been slain!
On Sunday, Michigan State was clearly on a mission and they accomplished that mission by defeating No. 1 Duke to advance to the Final Four.
For Spartans head coach Tom Izzo, it is his 8th Final Four in 24 years and he will be looking to win his second National Championship.
Following the conclusion of the game and after the Spartans were finished cutting down the nets, Izzo and his team went to their locker room to celebrate.
Watch as Izzo gets some dancing lessons following the big win.
Izzo and Sparty dancing to the #FinalFour

(via @MSU_Basketball)pic.twitter.com/JcC7prcVZQ

— Sports Illustrated (@SInow) April 1, 2019
BONUS CONTENT:
MSU students celebrate by burning things in East Lansing
Michigan State fans are among those who love to burn things after winning a big game and they proved that once again after the Spartans took down No. 1 Duke to advance to the Final Four.
Following the final buzzer, a plethora of Spartans fans took to the streets of East Lansing and had some fun while burning things and chanting "F*%k you Zion."
Thanks to Claire Moore on Twitter, here is how it went down from her perspective.
The scene at Cedar Village on campus as People start to gather and chant "Final Four!" following MSU's win against Duke @thesnews pic.twitter.com/V6yBumghQT

— Claire Moore (@moorefromclaire) March 31, 2019
Crowd is fully running onto Grand River, told to get off the road by police. @thesnews

— Claire Moore (@moorefromclaire) March 31, 2019
Crowd moving up the street. Lots of expletives against Duke and Zion ringing out. Police maintaining a presence. @thesnews pic.twitter.com/N5fFqKSX2w

— Claire Moore (@moorefromclaire) March 31, 2019
Two crowds gathered on either side of Grand River Ave by Subway and Quality Dairy. Chanting "Go green, go white" as cars drive by honking in response @thesnews

— Claire Moore (@moorefromclaire) March 31, 2019
Traffic backed up a bit here @thesnews pic.twitter.com/T6FCcE8U0p

— Claire Moore (@moorefromclaire) March 31, 2019
Big crowd has circled back to the middle of Cedar Village. @thesnews pic.twitter.com/XfGnTVK5ud

— Claire Moore (@moorefromclaire) March 31, 2019
Crowd chanting up to a group of guys in their apartment to "bring it out" and "burn the couch." Will update if a couch is brought out but the officers standing next to me might not be down with that. @thesnews

— Claire Moore (@moorefromclaire) March 31, 2019
31 degrees in East Lansing right now hasn't yet deterred this crowd. Still lots of chanting going on. Beer cans are being thrown around. @thesnews pic.twitter.com/VTs3c0VEwx

— Claire Moore (@moorefromclaire) March 31, 2019
There's the fire. Not sure what was lit but I saw pizza boxes being moved toward this, possible kindling. DTN with fire extinguishers. @thesnews pic.twitter.com/PQkdN9WyT6

— Claire Moore (@moorefromclaire) March 31, 2019
Just confirmed it was a chair brought out. Someone just added a longboard to the fire. @thesnews

— Claire Moore (@moorefromclaire) March 31, 2019
Police donning riot gear. Standing next to them. @thesnews

— Claire Moore (@moorefromclaire) March 31, 2019
Shaky video but police just moved into the crowd. @thesnews pic.twitter.com/YJOeBAtseW

— Claire Moore (@moorefromclaire) April 1, 2019
Comments
MUST SEE: ESPN's Scott Van Pelt addresses drama between Tom Izzo and Aaron Henry
Though the Michigan State Spartans are on their way to the Sweet 16 for the first time in four years, it wasn't without some notable controversy. Head coach Tom Izzo had to be restrained on two separate occasions after voicing his frustrations with freshman player Aaron Henry during the Spartans' opening round matchup again Bradley.
ESPN's Scott Van Pelt decided to take some time and offer his thoughts on the controversy – or unnecessary controversy.
Do you agree?
BONUS CONTENT:
Highlights from Michigan State's victory over Minnesota
For the first time in four years, the Michigan State Spartans have advanced to the Sweet 16!
Their 70-50 victory over the Minnesota Golden Gophers in Des Moines, Iowa sealed their trip to Washington D.C. for the Sweet 16/Elite 8 for a matchup against LSU on Friday, March 29. Tip-off time has yet to be scheduled.
The Spartans were led in scoring by Xavier Tillman with 14 points, while Cassius Winston added 13 points. Four players scored 9 apiece. Check out some of the top highlights from the win!
BONUS CONTENT:
Aaron Henry's comments on being berated by Michigan State's Tom Izzo are perfection
Michigan State basketball coach Tom Izzo was not happy on Thursday during his No. 2 Spartans 11 point win over No. 15 Bradley.
This was obvious by Izzo's actions toward Aaron Henry. On two separate occasions, Izzo had to be held back by Spartans' players as he tried to get in the face of Henry.
WATCH: Michigan State's Tom Izzo explodes at Aaron Henry, needs to be restrained…TWICE!
Anyone who has followed Izzo knows this is nothing new and that he had been challenging his players like this for many years.
Following the game, Henry was asked about getting yelled at by Izzo and his answer was perfect.
From the MSU locker room, Aaron Henry sure didn't have a problem getting yelled at by Tom Izzo: "It's nothing new, it's just responding to it, accepting the coaching, not having a pity party for yourself, just being a basketball player and go respond."

— Matt Charboneau (@mattcharboneau) March 21, 2019
Tom Izzo is a great coach who has always tried to get the most out of his players. Sometimes that means getting fired up and yelling at them.
Deal with it.
Comments