JUST IN: Blake Griffin OUT against Trail Blazers
Well, this is the last thing that the Detroit Pistons needed against a top Western Conference opponent.
The team announced that team leader Blake Griffin would miss tonight's game against the Portland Trail Blazers with what was described as "a sore left knee".
Blake is OUT with a sore left knee, so Thon gets the start tonight

— Detroit Pistons (@DetroitPistons) March 30, 2019
Thon Maker started in his place.
BONUS CONTENT:
Dwane Casey has message for Izzo haters
On Thursday, the Michigan State Spartans defeated Bradley 76-65 to advance to the NCAA Tournament Round of 32.
But the Spartans win was not the news that stole the headlines over the next couple of days.
Instead, everybody and their brother showed the video and wrote about a couple of incidents which involved MSU head coach Tom Izzo yelling and getting in freshman Aaron Henry's face.
Some destroyed Izzo for his actions while most defended him, pointing out how much he loves his players and that this is something he has done for many years.
On Saturday, Detroit Pistons' head coach Dwane Casey was asked about Izzo's coaching style and he had a message for anyone criticizing the Spartans' coach for getting on his players.
#Pistons coach Dwane Casey to those criticizing MSU coach Tom Izzo: "I don't know any coach worth is salt – whether he does it in the locker room or on the court – that doesn't get on players. They're making a lot to do about nothing."

— Vince_Ells56 (@Vincent_Ellis56) March 24, 2019
As a Michigan fan who absolutely loves John Beilein and his coaching style, I almost equally love Tom Izzo and how he coaches his teams.
Keep it up, Tom.
BONUS CONTENT:
Former Piston Kwame Brown arrested
According to a report from TMZ, former Detroit Pistons' forward Kwame Brown was arrested on Saturday night for possession of marijuana.
From TMZ:
That man is ex-NBA player Kwame Brown … who was busted in Georgia with a bunch of marijuana … including pot-infused cookies, tea, and mints.
The 2001 first overall pick was a passenger in his Mercedes-Benz van when it was pulled over by Brunswick PD late Saturday night … when cops say his car REEKED of weed.
Kwame copped to having weed in the car … and told law enforcement he had some in the trunk of the van. Sure enough, cops found a backpack with all the weed treats.

Comments
BREAKING: Pistons' forward Blake Griffin's Game 2 status revealed
In Game 1, the Detroit Pistons were without their best player Blake Griffin and they were blown out by the Milwaukee Bucks in Game 1 of the Eastern Conference quarterfinals.
Well, if the Pistons want to steal a game in Milwaukee before heading back to Detroit, they will have to do so without Griffin as he has been ruled OUT for Wednesday night's game.
Blake Griffin is inactive. #Pistons

— Vince_Ells56 (@Vincent_Ellis56) April 17, 2019
Nation, do the Pistons even stand a chance tonight? What is your score prediction?
Comments
Casey: Griffin trying to convince medical staff he can play
The report that Detroit Pistons fans were dreading came out this morning – star forward Blake Griffin is likely to miss the entire first round of the playoffs against the Milwaukee Bucks. Of course, that comes on the heels of a Game 1 blowout loss to the Bucks in which the team was thoroughly embarrassed in nearly every facet.
Despite this, according to Pistons writer Keith Langlois, Griffin still wants to be out on the floor despite a nagging knee injury.
Dwane Casey says Blake Griffin is lobbying to play but decision is in hands of medical team

— Keith Langlois (@Keith_Langlois) April 15, 2019
"If it was my decision, I would've played," Griffin told ESPN after Game 1.
BONUS CONTENT:
Dave Bing's awesome video intro
Things went from bad to worse for the Detroit Pistons.
Already overwhelmed by the relentless attack of Giannis Antetokounmpo and Eric Bledsoe, center Andre Drummond took out his frustration on Giannis Antetokounmpo, shoving the Greek Freak to the floor as he was going for a layup.
Andre Drummond has been assigned a Flagrant 2 and he's EJECTED!! pic.twitter.com/0jahWaJGWZ

— Cream City Central (@CreamCityCtral) April 15, 2019
Drummond was hit with a flagrant-2 foul and thrown from the game. Additionally, the inactive Blake Griffin was given a technical for arguing the call.
Pistons beat writer Rod Beard had this observation:
#Pistons Andre Drummond gets a flagrant-2 for that hard foul on Giannis. Blake Griffin (who is inactive) also gets a tech for arguing.

Yeah, this thing is going off the rails.

— Rod Beard (@detnewsRodBeard) April 15, 2019
Ouch.
BONUS CONTENT:
Andre Drummond responds to fan on Twitter
It was an ugly scene at Little Caesars Arena during the first half of Tuesday night's game between the Detroit Pistons and Memphis Grizzlies. The fact that Memphis was missing eight regulars from their lineup didn't stop the players on the floor from building a staggering 22 point lead over Detroit, leading to a chorus of boos from the fans in attendance.
However, the Pistons were able to mount a comeback for a dramatic 100-93 victory to inch closer to the Eastern Conference's playoff spot. Pistons center Andre Drummond had himself a good second half, with a renewed effort on the defensive end.
"I made a decision to start trapping in the second half," Drummond explained. "I told (assistant) coach Sweeney – 'I think we need to blitz them and make them speed up the game a little…..we made them play our game, we made them pick the pace up and they weren't ready for it."
Comments
LOOK: Pistons' Andre Drummond gets bent out of shape following tweet by Fox 2 reporter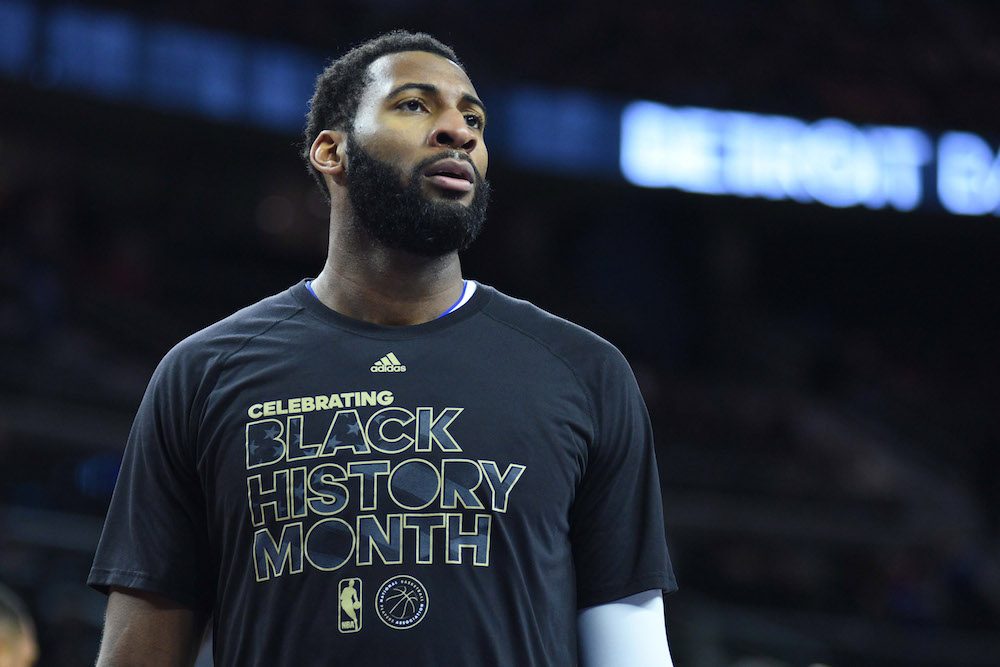 The Detroit Pistons were easily handled on Sunday by the Milwaukee Bucks in Game 1 of the Eastern Conference Quarterfinals. This does not come as much of a surprise as the Pistons were without their best player, Blake Griffin, and they were playing against a Bucks team that led the entire NBA in wins.
Late in the game Pistons' center Andre Drummond was ejected after shoving Giannis Antetokounmpo and being assessed a Flagrant 2 foul.
When Drummond was asked about how tough it was not to be able to finish the game because of his Flagrant 2, he replied, "I got to shower early."
When asked how tough it was not to be able to finish the game because of his flagrant -2 Drummond said "I got to shower early."

— Jennifer Hammond (@HammerFox2) April 15, 2019
As you can see from above Jennifer Hammond of Fox 2 tweeted out Drummond's comment, which she has every right to do. (In fact, it is part of her job)
Well, when Drummond caught wind of Hammond tweeting out WHAT HE SAID, he was clearly offended.
"See you Wednesday, Jennifer… have the same energy. I've been good to you my whole career and you want to turn the knife when we as a team is having a rough night! All good, @DetroitPistons we aren't dead it's only game one, let's turn things around on Wednesday!"
See you Wednesday Jennifer…. have that same energy. I've been good to you my whole career and you want to turn the knife when we as a team is having a rough night! All good, @DetroitPistons we aren't dead it's only game one, let's turn things around Wednesday!

— Andre Drummond (@AndreDrummond) April 15, 2019
Jennifer Hammond is a class act and she has always been a class act. If Andre Drummond does not want his comments to be reported, then he needs to refrain from saying them. Or at least, choose his words wisely.
Comments