Michigan State vs. Texas Tech Final Four game time announced
On Sunday, No. 2 seed Michigan State took down the overall No. 1 seed Duke to advance to the Final Four.
The Spartans will now take on No. 3 seed Texas Tech, who advanced by defeating Gonzaga on Saturday.
According to reports, the Spartans and Red Raiders will tip off at approximately 8:30 p.m. on CBS this coming Saturday night.
Nation, who do you have winning this one?
The winner of MSU vs. Texas Teach will take on the winner of No. 1 Virginia vs. No. 5 Auburn, who tip off at 6:09 p.m. on CBS.
BREAKING: Michigan State vs. Texas Tech Final Four point spread revealed
Comments
WATCH: Newest Spartan Rocket Watts puts on a show for Tom Izzo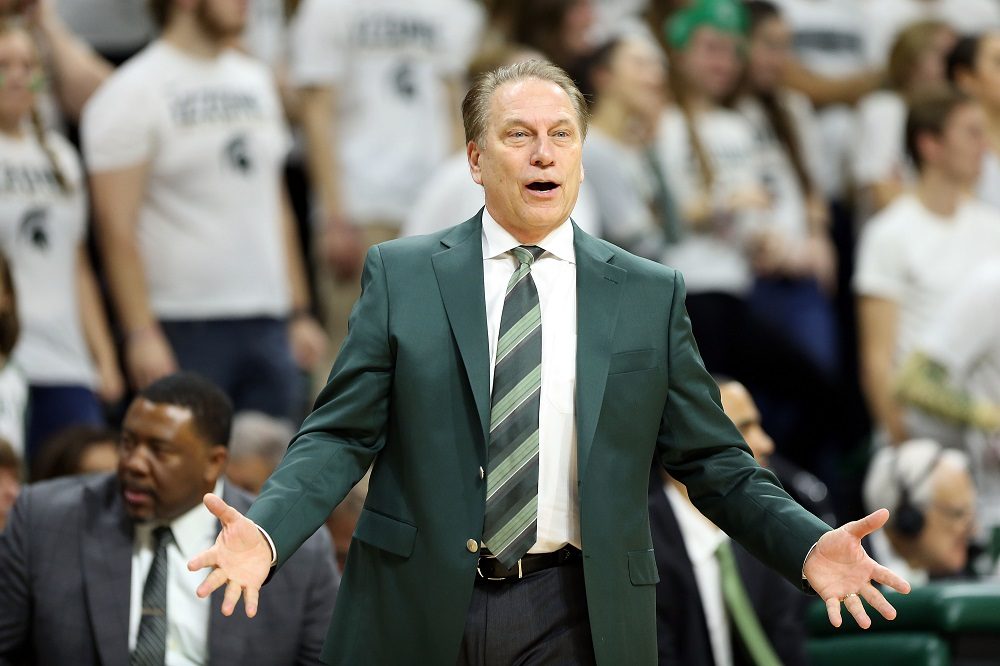 Rocket Watts has signed his letter of intent to join Michigan State University's basketball team.
It's official: Rocket Watts is a Spartan. https://t.co/5xar9IE7wB

— GreenandWhite.com (@LSJGreenWhite) April 17, 2019
Watts is the 29th ranked prospect in the 2019 draft class according to ESPN. During his senior season at SPIRE Academy, Rocket averaged 24.4 points per game.
He's a combo guard — playing both point and shooting guard — but he projects as a shooting guard in college. The Spartans are getting a player that knows how to score the basketball. Look what he did when Tom Izzo came to see him.
This is undoubtedly a good signing for Michigan State and will help continue their success after reaching the final four this past season.
For more great content visit Michigan Sports and Entertainment: News, YouTube, Facebook, Twitter, Instagram, Podcasts, Store
Comments
LOOK: Former Michigan State WR calls out Spartans for pathetic jerseys
If you have gone on social media at all today, you have likely stumbled across a few photos of the alternate uniforms the Michigan State football team will be wearing this coming season.
Spartans reveal new alternate uniforms for 2019 👀 pic.twitter.com/qlnFWYMK7c

— Michigan State Football (@MSU_Football) April 13, 2019
The neon green uniforms are without a doubt some of the ugliest we have seen in quite a while. (Though the MSU hoops team gave them a run for their money a couple of years ago)
One person who clearly does not care for the neon is former Spartans' wide receiver R.J. Shelton, who took to Twitter to voice his displeasure with his former team.
Take them back. Get back to the basics. I can see an all black or a throwback jersey. This jersey doesn't represent Michigan State and what we stand for as a football program. #Earnthejersey https://t.co/cV4K4sFjGw

— Rj Shelton (@rj_shelton) April 13, 2019
Nation, do you like the Spartans' alternate uniforms?
Comments
BREAKING: Michigan State LB Dante Razzano suffers broken arm during Spring Game
According to Michigan State head coach Mark Dantonio, linebacker Dante Razzano suffered a broken arm during the Spartans' annual Spring Game in East Lansing.
Dantonio said LB Dante Razzano suffered a broken arm. Said LB Jeslord Boateng should be ok after he suffered a leg injury

— Matt Charboneau (@mattcharboneau) April 13, 2019
Razzano, who is a junior, played in all 13 games on special teams for the Spartans in 2018.
Comments