UPDATED: Michigan's Devin Bush Jr. attempts to destroy Spartans midfield logo before game
Michigan's Devin Bush Jr. has made it very clear about his hatred for the Michigan State Spartans.
On Saturday, the Wolverines and Spartans will clash in what is an extremely important game for both teams.
Prior to the game, Bush was not only a part of a "shoving and yelling" match with some Spartan players as they walked across the field but then he took things to a new level.
Watch as Bush disrespects the Spartans by doing his best to tear up their midfield logo with his cleats.
#GoBlue #BeatState SMASH THEM SPARTIES! pic.twitter.com/X7Uhm2CBMf

— Go Blue! 〽️🏈💯🔥 (@frontmanjams) October 20, 2018
After this, Bush started dragging his cleats all over the Spartan head at midfield. MSU assistant AD Greg Ianni meeting with U-M people after in terse talk. Grounds staff looking at logo. https://t.co/9NxH91wvE6

— Chris Solari (@chrissolari) October 20, 2018
You can see the cleat marks MSU grounds staff is trying to repair. pic.twitter.com/7BmFOfXyVH

— Chris Solari (@chrissolari) October 20, 2018
UPDATE:
Apparently, MSU was late to take the field for warmups which is why the Michigan players were already on the field. According to Angelique Chengelis, "MSU players with arms locked clotheslined Lawrence Marshall and Devin Bush. Ripped off Lavert Hill's earphones."
UM-MSU pregame incident — MSU was 10 min late taking field for warmup. UM was already on field (allowed at 10 am). MSU players w arms locked "clotheslined" Lawrence Marshall and Devin Bush. Ripped off Lavert Hill's earphones. "That's a game management issue" — UM's Dave Ablauf

— angelique (@chengelis) October 20, 2018
BONUS CONTENT:
The kitchen is warming up, but Michigan's Jim Harbaugh is cooking up something tasty for the Spartans
Whether or not anyone wants to admit it, the kitchen in Ann Arbor is starting to get a bit warm for Michigan Jim Harbaugh.
Now in his fourth season as Wolverines' head coach, Harbaugh has not yet lived up to what many hoped he would. After all, Michigan fans are obsessed with beating Ohio State and at a lower level, obsessed with beating the Michigan State Spartans. Unfortunately, at least for Wolverines' Nation, Harbaugh has yet to get the job done in rivalry games as he is 0-3 against the Buckeyes and 1-2 vs. the Spartans.
To make matters worse, since returning home to Michigan, Harbaugh is 0-17 on the road against ranked teams and many of the Wolverines' faithful have begun to question if he is the right man for the job.
This Saturday, Harbaugh will be able to take a step in the right direction when the No. 6 Wolverines invade East Lansing to take on No. 24 Michigan State. With a win, Michigan will not only earn a win over a rival (and a ranked opponent on the road) but they move to 7-1 with the hopes of a College Football Playoff berth still being attainable.
To read the rest, please click below:
https://detroitsportsnation.com/u-of-m-news/ddrysdale/the-kitchen-is-warming-up-but-michigans-jim-harbaugh-is-cooking-up-something-tasty-for-the-spartans/10-2018/197278/
Comments
WATCH: Newest Spartan Rocket Watts puts on a show for Tom Izzo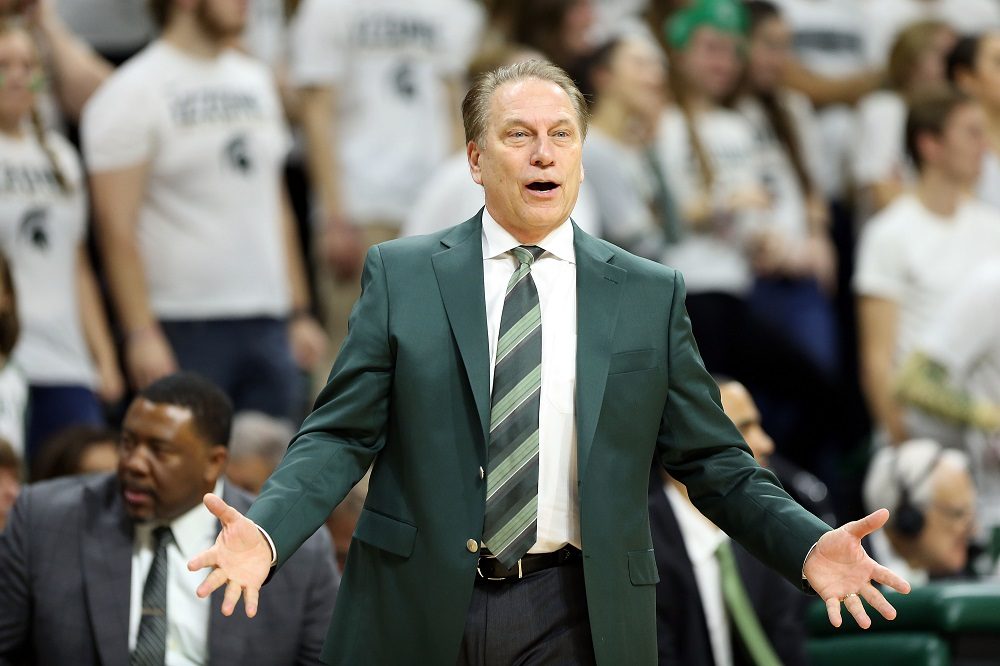 Rocket Watts has signed his letter of intent to join Michigan State University's basketball team.
It's official: Rocket Watts is a Spartan. https://t.co/5xar9IE7wB

— GreenandWhite.com (@LSJGreenWhite) April 17, 2019
Watts is the 29th ranked prospect in the 2019 draft class according to ESPN. During his senior season at SPIRE Academy, Rocket averaged 24.4 points per game.
He's a combo guard — playing both point and shooting guard — but he projects as a shooting guard in college. The Spartans are getting a player that knows how to score the basketball. Look what he did when Tom Izzo came to see him.
This is undoubtedly a good signing for Michigan State and will help continue their success after reaching the final four this past season.
For more great content visit Michigan Sports and Entertainment: News, YouTube, Facebook, Twitter, Instagram, Podcasts, Store
Comments
LOOK: Former Michigan State WR calls out Spartans for pathetic jerseys
If you have gone on social media at all today, you have likely stumbled across a few photos of the alternate uniforms the Michigan State football team will be wearing this coming season.
Spartans reveal new alternate uniforms for 2019 👀 pic.twitter.com/qlnFWYMK7c

— Michigan State Football (@MSU_Football) April 13, 2019
The neon green uniforms are without a doubt some of the ugliest we have seen in quite a while. (Though the MSU hoops team gave them a run for their money a couple of years ago)
One person who clearly does not care for the neon is former Spartans' wide receiver R.J. Shelton, who took to Twitter to voice his displeasure with his former team.
Take them back. Get back to the basics. I can see an all black or a throwback jersey. This jersey doesn't represent Michigan State and what we stand for as a football program. #Earnthejersey https://t.co/cV4K4sFjGw

— Rj Shelton (@rj_shelton) April 13, 2019
Nation, do you like the Spartans' alternate uniforms?
Comments
BREAKING: Michigan State LB Dante Razzano suffers broken arm during Spring Game
According to Michigan State head coach Mark Dantonio, linebacker Dante Razzano suffered a broken arm during the Spartans' annual Spring Game in East Lansing.
Dantonio said LB Dante Razzano suffered a broken arm. Said LB Jeslord Boateng should be ok after he suffered a leg injury

— Matt Charboneau (@mattcharboneau) April 13, 2019
Razzano, who is a junior, played in all 13 games on special teams for the Spartans in 2018.
Comments