Detroit Pistons small forward Stanley Johnson was left on the outside looking in as the NBA announced its 2015-16 All-Rookie teams on Thursday afternoon.
With 42 total points and one first-place vote, Johnson finished 13th among rookies in voting, joining Charlotte's Frank Kaminsky (47 points) and Miami's Josh Richardson (47 points) as those within 10 points of making the All-Rookie second team.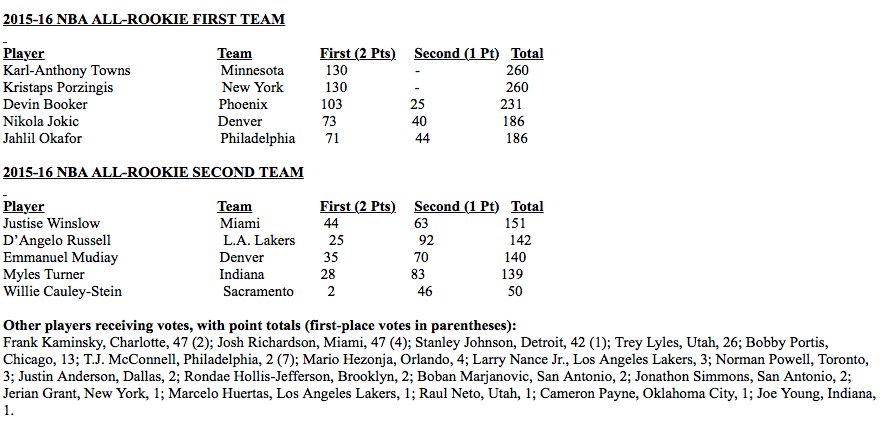 Averaging 8.1 points and 4.2 rebounds in 73 games for the Pistons this season, Johnson's on-court effectiveness took a slight hit in late February after sustaining a right shoulder injury, leading to a seven-game absence and a brief struggle to re-discover his shooting stroke as the regular season came to close.
His rookie campaign ended on a strong individual note after battling Cleveland Cavaliers superstar LeBron James admirably in their first round playoff series. Johnson shot 52.5 percent from the field in the postseason while hitting six of his 10 attempts from the arc.
The All-Rookie first team was paced by Minnesota's unanimous Rookie of the Year selection Karl-Anthony Towns and New York Knicks forward Kristaps Porzingis, both of whom received all 130 first-place votes. They were joined by Devin Booker (Phoenix), Nikola Jokic (Denver), and Jahlil Okafor (Philadelphia).
Miami's Justise Winslow, of whom the Pistons bypassed to select Johnson in last year's draft, led the All-Rookie second team with 151 points. D'Angelo Russell (Los Angeles Lakers), Emmanuel Mudiay (Denver), Myles Turner (Indiana), and Willie Cauley-Stein (Sacramento) wrapped up the second unit.