Upon delivering a 26-point, 11-rebound, 10-assist performance against the Magic last March, point guard Reggie Jackson became the first Piston in nearly 20 years to record more than one triple-double in the same season.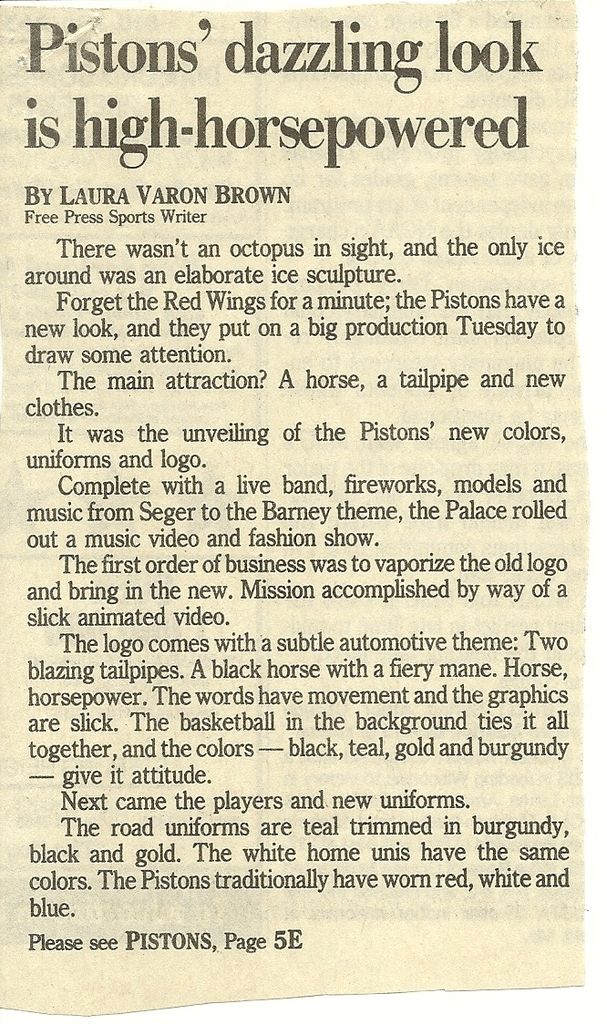 The last man to accomplish such a feat, of course, wasn't too much of a slouch himself. In fact, Grant Hill  dropped four triple-doubles during the 1997-1998 season.
But today, we're taking one more step back.
November 1996 was a time of change for the Pistons, not entirely dissimilar to the position Stan Van Gundy's crew appears to be setting up for themselves today. Head coach Doug Collins was entering his second year at the helm. Veterans like Grant Long and Otis Thorpe had begun to fully settle in. And perhaps most drastically, the Pistons were rocking a new look, having traded in their red, white, and blue for burgundy, black and gold.
Opening up the season with a pair of convincing wins over the Indiana Pacers and Atlanta Hawks, the Pistons stepped foot upon Philadelphia's CoreStates Center with a sense of early-season swagger. Nevermind that it was Allen Iverson's third game as a 76er, it was Detroit's time to shine.
Perhaps not satisfied with his 22, 15, and 9 performance against the Hawks, Grant Hill 2.0 (the one with a significantly more reliable pull-up jumper) doubled down and brought the pain in Philly.
Things got real late in the fourth (2:20 of the clip above). Trailing by four with under three minutes remaining, Hill used a Terry Mills screen and a lightning quick first step to zip into the lane for a one-handed punch. Next Philly possession, Grant Hill sneakily crept in for a help side block on Derrick Coleman, leading to a game-tying jumper from Hill just moments later.
Then, following a 76ers score: Grant Hill unleashed the beast.
Facing down Sixers forward Mark Davis, who was locked in and assuming fundamental defensive positioning, Hill led him left with a dribble drive before suddenly spinning at a moment's notice and hammering home the mother of all two-handed dunks, hanging on the rim for effect before slowly levitating to the ground a la Dave Chappelle's interpretation of Prince.
It was enough to leave even opposing fans in shock and awe.
By then, the writing was on the wall. This was Grant Hill's game. With the contest tied in the waning seconds, Hill drew a foul attacking the rim and calmly sank both free throws, handing the Pistons their third win of the season in as many tries. Over their first 11 games in 1996-97, the Pistons' only blemish came in a loss to a Chicago Bulls team coming off an NBA record 72-10 campaign the season prior.
The Pistons would go on to win 54 games that season, only to settle for a fifth seed in the East and fall in a tough first round series against the Atlanta Hawks.
Despite the anti-climatic finish, '97 served as the most successful Pistons season since the Bad Boys world championships of 1989 and 1990.  And it was all thanks to the dominance of Grant Hill.