Kudos to this guy!
Richie Bernardo of WalletHub.com dug extremely deep and came out with some pretty impressive numbers to back up the story he constructed. Bernardo did a ranking of 72 cities and factored in everything from the 'Highest NHL Fan Engagement' all the way to the 'Highest Minimum Season-Ticket Price for a College Hockey Game' to see which city deserves to hold the title of the 'Best City for Hockey Fans' in the United States.
Once everything was calculated, it was determined that Detroit, Michigan was the best overall city for hockey fans. Though the college hockey ranking was near the bottom of the barrel (56th), the Overall Rank (1st), total points (54.91) and NHL Rank (1st) saw the Motor City at the very top of the list.
Here is the chart that shows Detroit at the top of the list and who rounds out the Top 10 cities overall.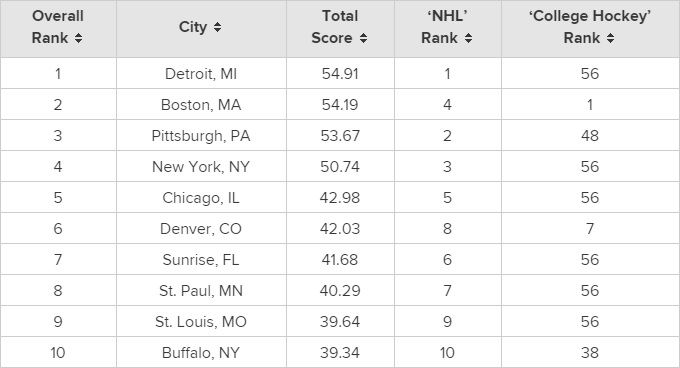 With all of the numbers that went into making this list, there can't be much more you can do to get more of an accurate number for all of the cities listed. This is quite the discovery courtesy of Bernardo.
What do you think of the rankings, Nation?
Have you subscribed to our YouTube Channel yet? Subscribe and hit that notification bell to stay up to date on all the latest Detroit sports news, rumors, interviews, live streams, and more!