Tonight our Detroit Lions look to win their 5th straight win vs NFC-North division rivals Green Bay Packers, a win tonight will be huge, the Lions coming in with a record of (2-1-1) and the Packers a record of (4-1) would mean the Lions move to (3-2-1) while the Packers move to (4-2) and they would have a divisional loss to the Lions.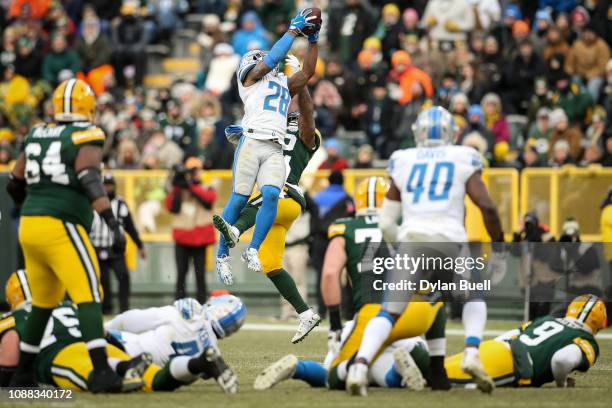 Why Is this important?
Why is this important you might be wondering, well for one a win means the Lions are just one game out of first place in the NFC-North, but as to the Green Bay Packers having a divisional loss to the Lions, this is huge because say the end of the year the Lions and Packers are tied for the division or even if they are tied with another team to make the wildcard, anything playoff related really, they will go by which team has more divisional wins.
Key match-ups for tonight's game
Offensively Kerryon Johnson, watch for Johnson to have a breakout game tonight vs this Packers defense, the Packers allow the sixth-most rushing yards per game, while Johnson had 26 carries for 125 yards vs the Kansas City Chiefs in the Lions 34-30 loss.
Defensively watch for linebacker Jarrad Davis, this is Davis' third game back from an ankle injury, and has not performed very well since, actually being ranked the worst linebacker in terms of coverage for those eligible to be ranked, and likely tonight Aaron Rodgers will be looking for running back Aaron Jones, and tight end Jimmy Graham quite often in this game meaning Davis should have a pretty busy day in coverage.
Lions wide receivers vs Green Bays secondary
Watch for Kenny Golladay and Marvin Jones against Green Bays young, convincing secondary. Both Golladay and Jones are ranked top 25 receivers coming into week 6, but on the other side of the ball Green Bays secondary is coming off a three-interception week vs the Dallas Cowboys. The Packers secondary is lead by second-year Cornerback Jaire Alexander, who has nine pass deflections on the year, and rookie safety Darnell Savage has an interception and three pass deflections coming into tonight's game.
Detroit Sports Nation, what match-ups or players are you most excited to watch tonight vs the Packers? What do you predict the final score to be?
Have you subscribed to our YouTube Channel yet? Subscribe and hit that notification bell to stay up to date on all the latest Detroit sports news, rumors, interviews, live streams, and more!