It's been dark times for the Detroit Pistons on the All-Star front in the years since Iverson's two-point showing, but it hasn't always been that way. Here's our take on 10 of the greatest All-Star performances in Detroit Pistons' history:
10

Grant Hill & Joe Dumars (1995)
A little bit of a father-son vibe to this one. There was Joe Dumars, the savvy, 31-year-old two-time world champion. And then there was Grant Hill, the spry youngster who, at just 22 years old, still managed to lead the league in All-Star voting. The duo combined for 21 points and nine assists. When Dumars delivered an underhanded scoop lob to Hill midway through the second quarter, everything just seemed right in the world.
9

Gene Shue (1959)
Gene Shue could very well be the most underrated player in franchise history. After joining the Detroit Pistons for their last season in Ft. Wayne, Shue played for the next five years in Detroit. He was an All-Star for every single one of them.
While Shue dropped 18 points on 8-of-11 shooting the year prior, we're highlighting his 1959 showing for a few reasons: 1) It was his first All-Star start 2) He cashed in an even-keeled 13 points, four rebounds, and three assists 3) He did it all at Olympia Stadium on Grand River. That's right, bonus points for showing out in front of the home crowd.
8

George Yardley (1958)
Pre-dating Grant Hill and Joe Dumars by a solid 37 years was the electric duo of Gene Shue and George Yardley. The two combined for 37 points during the 1958 All-Star Game and Yardley, the first player in NBA history to surpass 2,000 points in a single season, handled his business on the boards as well, finishing with 19 points and nine rebounds in 32 minutes of work.
7

Bob Lanier (1977)
Coming off the bench in an All-Star game most notable for being the first such event since the ABA/NBA merger, Bob Lanier shared the frontcourt spotlight with Kareem Abdul-Jabbar and made the most of his 20 minutes of work, racking up 17 points on 7-of-8 shooting to go along with 10 rebounds and four assists. He scored 13 points in the second half alone, joining forces with Paul Westphal in leading the West to a narrow 125-124 victory.
And yes, that's former Detroit Pistons' coach Doug Collins elbowing Westphal in the face and then complaining about it… in an all-star game.
6

Dave DeBusschere (1967)
Dave DeBusschere had his hands full in 1967. Not only did he average 18 and 12 for his hometown Detroit Pistons, but he was also working through his third season as the team's head coach, meandering his squad to a 28-45 mark before resigning from duties in March. Two months prior, he came off the bench to score 22 points and grab six rebounds in the West's 135-120 win at the Cow Palace in San Francisco.
DeBusschere set an NBA All-Star record by connecting on eight field goals in a single quarter during his performance, a record that'd stand until Blake Griffin tallied nine in 2014.
5

Isiah Thomas (1989)
Proof that an Isiah Thomas/Michael Jordan one-two punch could have worked in Barcelona in '92? One way or another, Isiah Thomas unleashed in an exhibition setting was a sight to behold. In 1989 he dazzled to the tune of 19 points and 15 assists, dropping dimes off the backboard, threading the needle with a 50-foot bounce pass, and even finding the time to score a spectacular bucket or two.
4

Detroit Pistons (2006)
Chauncey Billups may have racked up 15 points and seven assists during the 2006 NBA All-Star Game but it was the Detroit Pistons as a whole who owned the spotlight. Checking in as a collective unit, Billups, Richard Hamilton, Ben Wallace, and Rasheed Wallace (with Boston's Paul Pierce tagging along as a fifth wheel), the Detroit Pistons quartet turned all-star basketball on its head, locking down defensively, nearly forcing multiple shot clock violations and converting easy and fundamental transition buckets on the other end.
Sounds about right.
3

Isiah Thomas (1984, MVP)
So, Isiah Thomas was an absolute monster. Two-time champion, with career averages of 19 and 9, did anything and everything in order to guide his team to victory (even if that meant breaking his hand on a rival's jaw and then returning to action two games later). The All-Star game just happened to be the perfect showcase for everything he was bringing to the table (aside from the fistfights).
In '84, Thomas delivered 21 points and a game-high 15 assists, converting on a key three-point play in overtime en route to earning MVP honors in a 154-145 East victory.
2

Bob Lanier (1974, MVP)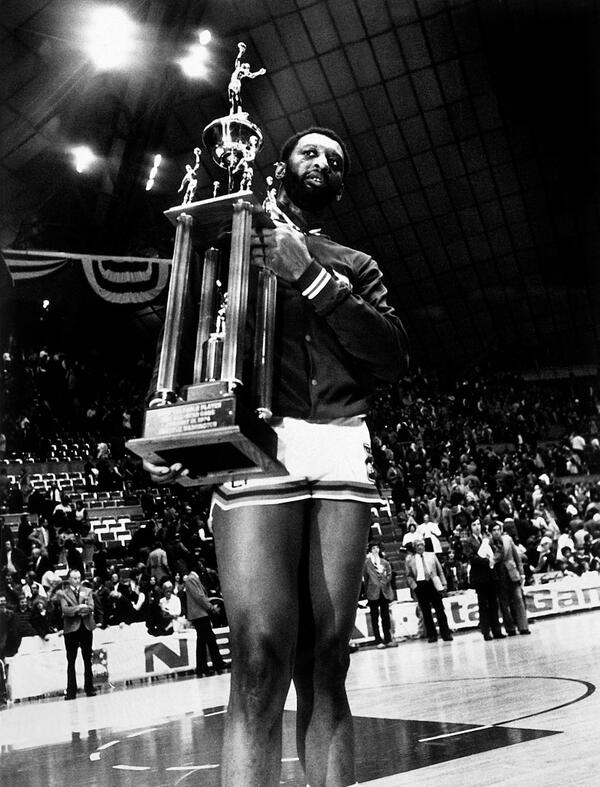 Detroit vs. Everybody? Or at least, the vast majority of 1974 All-Stars? In his third All-Star appearance, Bob Lanier teamed up with Detroit Pershing graduate Spencer Haywood to wreak havoc on behalf of the Western Conference. Lanier one-upped Haywood in the scoring department, dropping 24 points (11-of-17) and 10 rebounds to Haywood's 23 and 11. It was enough to earn the first-ever All-Star MVP award in franchise history during his team's 134-123 victory.
1

Isiah Thomas (1986, MVP)
"Never in all my wildest dreams could I ever imagine that something like this could ever happen to me two times in my lifetime."
That could just as well be a quote from Isiah Thomas' 1990 NBA Finals celebration, shortly after his Detroit Pistons clinched their second consecutive NBA championship. Alas, in 1986 Zeke was still dreaming small after being named the NBA All-Star MVP for the second time in three years.
For the sake of variety, we would have loved to sprinkle a few more Detroit Pistons' greats into our top five but the fact of the matter is, Thomas' All-Star performances were undeniable (and we didn't even include his other 15 assists showing in 1988). His mid-season dominance reached its apex in Dallas when he scored a game-high 30 points (11-17), dished 10 assists, and added five steals in a 139-132 Eastern Conference victory.