LJ Scott to miss Senior Bowl with injury
Former Michigan State running back LJ Scott will miss the Senior Bowl due to an ankle injury.
For Scott, who originally accepted an invitation to play in the game, withdrawing from the Senior Bowl is just another bump in what was a disappointing, injury-filled final season for the Spartans. The injury woes started early for LJ Scott, who injured his right leg on September 8th during the game between MSU and Arizona State. Scott suffered the leg injury on the second play of the second half of the 16-13 loss.
Scott would only play in two more regular-season games, against Michigan and Purdue, due to the injury which Mark Dantonio called an ankle injury. Scott re-aggravated the injury during the game against Purdue on October 27th. LJ Scott did not play again during the regular season and the initial plan according to Dantonio was to have him redshirt. However, Scott decided to play in the Spartans' bowl game against Oregon and gave up his potential fifth year of eligibility to declare for the NFL draft:
Concerning My Future.. pic.twitter.com/UzRuktU4Jo

— Lj Scott (@ljscott_03) December 6, 2018
Spartan Nation

The past four years at Michigan State have been some of the best of my life. It has been an incredible journey in East Lansing, and I am proud of all of our accomplishments as a team and forever grateful to the entire Spartans Nation.

Having dealt with various humbling injuries during the 2018 regular season, I initially believed the best plan for me was to return to the Spartans as a Redshirt Senior next season. As the season has drawn closer to an end, I've had time to properly reflect and discuss all of my options with my coaches and family to decide the absolute best course of action for me going forward. After a ton of thought, prayer, and careful consideration, I have decided to enter the 2019 NFL Draft as a senior.

Especially considering the position that I play, I truly feel in my heart that after four seasons at MSU, the time is right for me to turn pro. I will continue to get healthy, finish the season playing in the Redbox Bowl with my teammates, and then pursue my dream of playing in the NFL.

I want to personally thank Coach Dantonio for everything he has done for me as a coach and a mentor in my life. He has always stood by me and supported me. A big thank you goes out to my family for always being there and supporting me throughout this journey as I pursue my dream of one day playing in the NFL. I also want to thank the entire coaching staff at MSU, the support staff, and the entire medical training staff for everything that they have done for me. To my teammates, you guys are the best, and I appreciate all of you!

And lastly, to the best fans in the country, the love and support you all have shown me and my family through the past four years here at MSU means more than you know. I will forever be a Spartan. Go Green!

LJ Scott
During the second quarter of the game against Oregon, Scott pulled up lame and grabbed the back of his left knee near his hamstring. Despite the injury scare, LJ was able to play the rest of the game and finished with a game-high 84 rushing yards on 24 carries.
In the five games he played in this year, Scott ran 79 times for 264 yards, but he did not score a touchdown. He also caught seven passes for 95 yards.
While his final year didn't go according to plan, Scott finished his Spartan career ranked ninth all-time with both 2,855 rushing yards and 610 carries, and 12th in career rushing TDs at 25.
With LJ Scott sitting out the Senior Bowl, safety Khari Willis now will be the Spartans' lone representative. The Senior Bowl will be played on Saturday, January 26th in Mobile, Alabama. The game will be televised on the NFL Network and is scheduled to start at 2:30 PM ET.
Comments
WATCH: Newest Spartan Rocket Watts puts on a show for Tom Izzo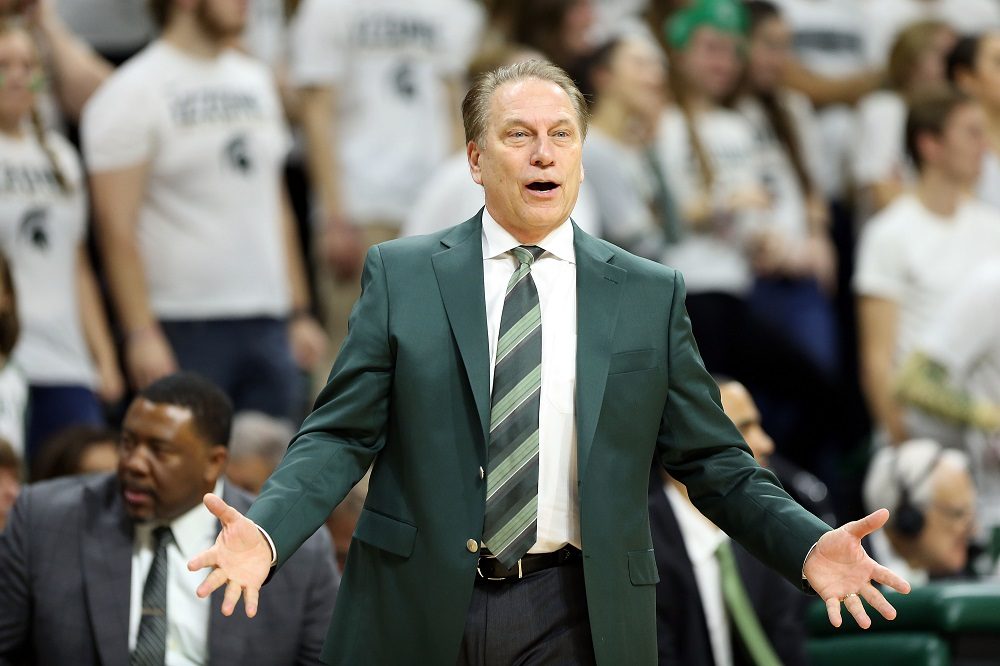 Rocket Watts has signed his letter of intent to join Michigan State University's basketball team.
It's official: Rocket Watts is a Spartan. https://t.co/5xar9IE7wB

— GreenandWhite.com (@LSJGreenWhite) April 17, 2019
Watts is the 29th ranked prospect in the 2019 draft class according to ESPN. During his senior season at SPIRE Academy, Rocket averaged 24.4 points per game.
He's a combo guard — playing both point and shooting guard — but he projects as a shooting guard in college. The Spartans are getting a player that knows how to score the basketball. Look what he did when Tom Izzo came to see him.
This is undoubtedly a good signing for Michigan State and will help continue their success after reaching the final four this past season.
For more great content visit Michigan Sports and Entertainment: News, YouTube, Facebook, Twitter, Instagram, Podcasts, Store
Comments
LOOK: Former Michigan State WR calls out Spartans for pathetic jerseys
If you have gone on social media at all today, you have likely stumbled across a few photos of the alternate uniforms the Michigan State football team will be wearing this coming season.
Spartans reveal new alternate uniforms for 2019 👀 pic.twitter.com/qlnFWYMK7c

— Michigan State Football (@MSU_Football) April 13, 2019
The neon green uniforms are without a doubt some of the ugliest we have seen in quite a while. (Though the MSU hoops team gave them a run for their money a couple of years ago)
One person who clearly does not care for the neon is former Spartans' wide receiver R.J. Shelton, who took to Twitter to voice his displeasure with his former team.
Take them back. Get back to the basics. I can see an all black or a throwback jersey. This jersey doesn't represent Michigan State and what we stand for as a football program. #Earnthejersey https://t.co/cV4K4sFjGw

— Rj Shelton (@rj_shelton) April 13, 2019
Nation, do you like the Spartans' alternate uniforms?
Comments
BREAKING: Michigan State LB Dante Razzano suffers broken arm during Spring Game
According to Michigan State head coach Mark Dantonio, linebacker Dante Razzano suffered a broken arm during the Spartans' annual Spring Game in East Lansing.
Dantonio said LB Dante Razzano suffered a broken arm. Said LB Jeslord Boateng should be ok after he suffered a leg injury

— Matt Charboneau (@mattcharboneau) April 13, 2019
Razzano, who is a junior, played in all 13 games on special teams for the Spartans in 2018.
Comments