In what we consider to be a positive step forward, we've managed to find a way to plug multiple Jim Harbaugh-based stories into one piece, thus theoretically reducing one's Harbaugh-induced social media fatigue by half. One step at a time, right?
First, the bad news: the University of Michigan football program recently self-reported four secondary recruiting violations. On the positive side, none of the violations – two of which directly included coach Harbaugh – are expected to effect athlete eligibility in any fashion and are likely not serious enough offenses to draw action from the NCAA itself.
The violations were as follows:
1) Improperly discussing a recruit before he had been admitted
2) Providing a helmet and jersey for a fundraiser to benefit a high school scholarship fund
3) Sharing recruiting materials through social media
4) Allowing a recruit to sit in premium seating at a campus hockey game.
As a result, U-M has stated that they plan to supply additional education on NCAA rules and school protocol to the involved parties.
The Cover
Meanwhile, Harbaugh's found himself popping up as the face of printed sports media this afternoon, emerging as the cover man for this week's issue of Sports Illustrated, quoting Winston Churchill for good measure: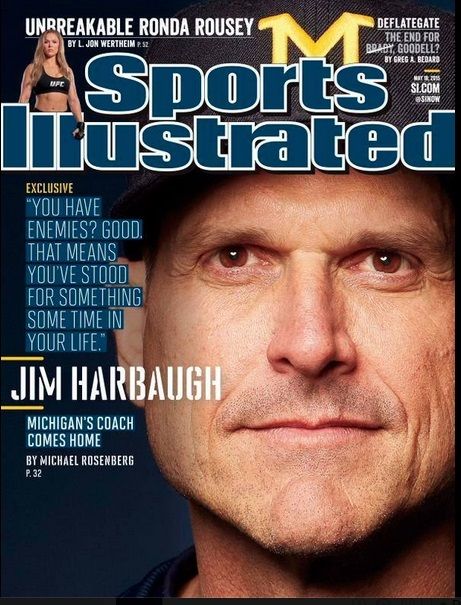 Just when you thought Jim Harbaugh had already completely saturated the sports media market…