Rocky Lombardi- Who is he? Getting to Know MSU's backup QB
Rocky Lombardi. With a name like that; he's gotta be 1) A WWE wrestler 2) the old guy at the bowling alley with one eye that always wants to tell you stories about "the war" or 3) most importantly, one hell of a football player.
Spartan Nation is pretty sure he's not #1 or #2 but is he #3?
With a lingering shoulder injury to starting QB Brian Lewerke, we got our first REAL look this weekend at his to-be successor, Rocky Lombardi. Who is this guy? Where did he come from? Does he know what scissors are?
In true Mark Dantonio fashion, he kept all of Spartan Nation, the media, and even his team in the dark about who would start against Purdue on Saturday. Right up until just before kickoff.
@elrick Rocky Lombardi first career TD!! pic.twitter.com/KZ3i6MEyCd

— Jerald Catanese (@JAYCEE243) October 27, 2018
Facts:
The 6'3 218lb Lombardi was 26-46 through the air for 318yds and 2 touchdowns, all with zero interceptions. He also rushed for 22 yards. Are those record numbers? Probably not. But coming from the disappointing numbers we've seen from Brian Lewerke thus far this season, they are definitely welcome.
He's one hell of an athlete. He was rated one of the top 5 dual-threat quarterbacks in the nation coming out of high school. But wait, there's more. Most high-level athletes and coaches will tell you that multi-sport athletes simply perform better. Lombardi was also accomplished in baseball, wrestling, and track. With a senior wrestling record of 38-2, Lombardi took second place in the state of Iowa at 220lbs. He was also ranked in the top 10 nationally, for his weight class.
He's got a WICKED sweet name. Unfortunately for fans of the Rocky saga, he's NOT named after the boxer. He is, however, named after a prominent athlete from Pennsylvania. Rocky Bleier, all pro 4 time Superbowl champion for the Pittsburgh Steelers in the 70s and 80s. Then there's "Lombardi". No, there's no relation to the Hall of Fame Coach. However, he does come from a deep-rooted football family. Great-grandfather, grandfather, and father are all long-serving coaches at the high school and collegiate level. Fun fact: his dad had an outstanding career at Arizona State. That's ironic…
He bears resemblance to a quarterback from EVERYONE's favorite movie, "Remember the Titans". Here's to hoping Lombardi can be the Spartan's much-needed ray of "Sunshine".
All I can think about when I see Rocky Lombardi is Sunshine from Remember the Titans pic.twitter.com/MPOMz1fJE1

— Nathan Fedorchak (@Fedorch) October 27, 2018
Comments
WATCH: Newest Spartan Rocket Watts puts on a show for Tom Izzo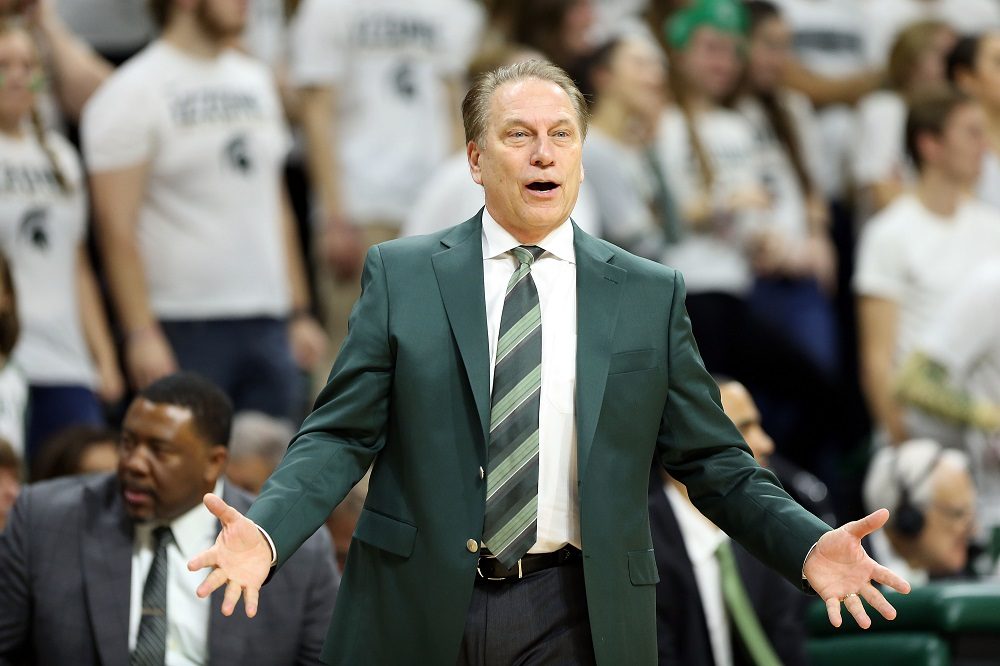 Rocket Watts has signed his letter of intent to join Michigan State University's basketball team.
It's official: Rocket Watts is a Spartan. https://t.co/5xar9IE7wB

— GreenandWhite.com (@LSJGreenWhite) April 17, 2019
Watts is the 29th ranked prospect in the 2019 draft class according to ESPN. During his senior season at SPIRE Academy, Rocket averaged 24.4 points per game.
He's a combo guard — playing both point and shooting guard — but he projects as a shooting guard in college. The Spartans are getting a player that knows how to score the basketball. Look what he did when Tom Izzo came to see him.
This is undoubtedly a good signing for Michigan State and will help continue their success after reaching the final four this past season.
For more great content visit Michigan Sports and Entertainment: News, YouTube, Facebook, Twitter, Instagram, Podcasts, Store
Comments
LOOK: Former Michigan State WR calls out Spartans for pathetic jerseys
If you have gone on social media at all today, you have likely stumbled across a few photos of the alternate uniforms the Michigan State football team will be wearing this coming season.
Spartans reveal new alternate uniforms for 2019 👀 pic.twitter.com/qlnFWYMK7c

— Michigan State Football (@MSU_Football) April 13, 2019
The neon green uniforms are without a doubt some of the ugliest we have seen in quite a while. (Though the MSU hoops team gave them a run for their money a couple of years ago)
One person who clearly does not care for the neon is former Spartans' wide receiver R.J. Shelton, who took to Twitter to voice his displeasure with his former team.
Take them back. Get back to the basics. I can see an all black or a throwback jersey. This jersey doesn't represent Michigan State and what we stand for as a football program. #Earnthejersey https://t.co/cV4K4sFjGw

— Rj Shelton (@rj_shelton) April 13, 2019
Nation, do you like the Spartans' alternate uniforms?
Comments
BREAKING: Michigan State LB Dante Razzano suffers broken arm during Spring Game
According to Michigan State head coach Mark Dantonio, linebacker Dante Razzano suffered a broken arm during the Spartans' annual Spring Game in East Lansing.
Dantonio said LB Dante Razzano suffered a broken arm. Said LB Jeslord Boateng should be ok after he suffered a leg injury

— Matt Charboneau (@mattcharboneau) April 13, 2019
Razzano, who is a junior, played in all 13 games on special teams for the Spartans in 2018.
Comments