It's understandable if your knowledge of Pistons history barely extends beyond 1986. Once the championships began rolling in, it became easy to pretend the struggle and strife never happened. But pre-80's Pistons history isn't all bad, it's just most of the good stuff happened in Ft. Wayne.  
Fred Zollner, who was literally in the piston business, founded the franchise in 1939 and joined the NBL in the early '40s, where they won two championships and one World Tournament (where all leagues and barnstormers came together for a battle royale). Once the NBA was formed in 1949, the Ft. Wayne Pistons continued their dominance, reaching the NBA Finals in back-to-back years ('55 and '56). That's right, Pistons championship heartbreak isn't limited to 1988 and 2005. 
Alas, once Zollner uprooted the club and shifted them 160 miles northeast to Detroit, things got interesting, sometimes depressingly so. Here are the highlights:
1. Before settling in Detroit, owner Fred Zollner briefly considered Louisville and Milwaukee as a new home for the Pistons. Milwaukee Pistons... actually not the worst flowing team name of all-time (looking at you, Hartford Yard Goats).
2. Ft. Wayne was kind of a basketball hotbed and predictably, the city wasn't too keen on losing their NBA franchise. "We were big in Ft. Wayne," Hall of Fame Pistons forward George Yardley once said. "We were held up as heroes."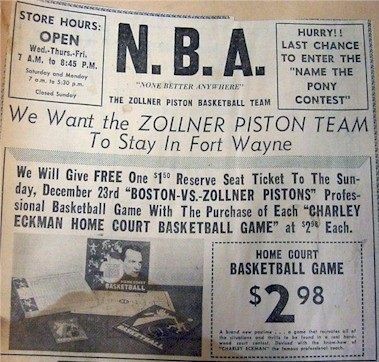 3. Pre-Pistons, four teams had already given basketball a shot in the Motor City and four times, those teams folded within two seasons.
The Detroit Eagles appeared to be on the fast track toward long term success in the early '40s, winning a World Tournament in 1941, but the following year most of the roster was drafted into World War II and the dream was over. The other three squads: the Detroit Gems (who'd eventually become the Lakers), the Detroit Falcons (1946-47) and the Detroit Vagabond Kings (1948-49), who were literally replaced by the Dayton Rens midway through their only season. Can't make this stuff up.
4. The Pistons' home opener in Detroit (Oct. 23, 1957) ended well past midnight, as their contest with the Celtics was the second half of a double-header. The St. Louis Hawks and New York Knicks were the first two to break the seal on Olympia Stadium's NBA run. 
Bonus: An unseasonably warm October evening meant condensation was a problem in the opener. Both fans and players dealt with a steadily leaking Olympia ceiling throughout the evening. 
5. Detroit's George Yardley was the first player in NBA history to eclipse 2,000 points in a single season, scoring 2,001 en route to leading the league in scoring during his team's inaugural season in Michigan (27.8 ppg).
Bonus: If your first thought upon catching a glimpse of Yardley in a Pistons uniform was something along the lines of, "This lad looks more like an aeronautical engineer than a basketball player", well, you're on the right track. Yardley was Stanford educated and retired at age 31 to start his own engineering company in California. 
6. After building a team that won four division titles and three NFL championships in the 1950's, former Detroit Lions GM Nick Kerbawy was hired away by Fred Zollner to take over operations duties for the Pistons in 1958 (apparently if you were good at general managing, you were good at general managing, regardless of sport).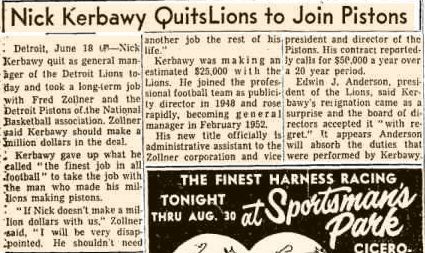 Alas, the relationship wasn't built to last. Zollner fired Kerbawy in '61 after learning he hadn't completely severed ties with the Lions. Naturally, Kerbawy sued for $5.5 million, eventually settling for $250,000 after four years of litigation.
7. The origin of a long-standing Pistons tradition of trading stars away for peanuts began in 1959, when Fred Zollner grew weary of a perceived lack of effort on the part of six-time All-Star George Yardley. Yardley, in turn, demanded a trade and threatened retirement, leading Zollner to broker a deal with Syracuse for Eddie Conlin.
Despite Yardley playing six years with the Pistons franchise, only one and a half of those seasons were played in Detroit.
8. With Olympia unavailable, the Pistons played their 1960 playoff home opener against Elgin Baylor and the Minneapolis Lakers at Grosse Pointe High School (Detroit lost, 113-112).
9. In February of 1961, the Pistons gave up two 57-point performances in three days, in the midst of a seven-game losing streak to boot. Elgin Baylor did the honors on the first go-around while Bob Pettit delivered the pain two days later (with a loss to the Nationals smushed in-between).

10. After advancing to the conference finals in 1962, the Pistons had their shot at an NBA title thwarted, in part, by the U.S. Army.
Allow us to explain. When Hall of Fame Lakers forward and U.S. Army reservist Elgin Baylor was called to active duty in Washington state earlier that season, he was only able to play on a weekend pass, leading to just 48 regular season appearances. But Baylor was granted special playoff leave, where he then averaged 36.3 points per game in a six-game series win over the Pistons. It'd be the closest the Pistons came to reaching the finals for a quarter century.
11. Though he's made strides in this department in 2016, it wouldn't be unrealistic for a lot of us to consider Andre Drummond one of the most foul-prone Pistons we've ever seen. But that's just because most of us weren't around for Walter Dukes.
While Drummond topped out at league-leading 285 fouls last season, the seven-foot Dukes committed at least 300 infractions in five of his six years in Detroit , leading the league in foul outs on four different occasions (he averaged 19.5 disqualifications a year between '59 and '62).
12. The Pistons spent just four years at Olympia, opting to move to Cobo (aka Convention Arena) in 1961. And why? Olympia's rent was too damn high. While their former digs charged $2,500 per game night, Cobo stood at a much more manageable $600. The move also meant no longer playing second fiddle to the Red Wings at Olympia, where the Pistons were frequently forced to re-locate to U of D (or Grosse Pointe High School).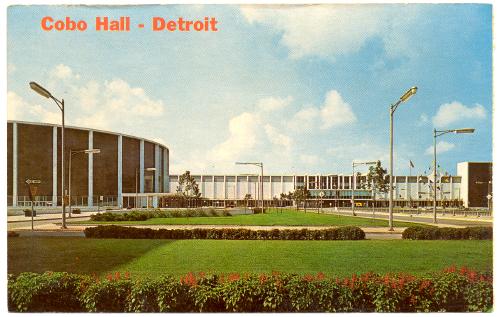 13. Think modern day road trips are tough? Try out Detroit's five-for-five in 1963, when they flew across the United States to play in Los Angeles, San Francisco, back to Los Angeles, and Bakersfield before flying back across the country to finish things off with a date in Chicago, with zero days of rest in-between.
All told: Five days, five games, two wins, one Wilt Chamberlain 58-point performance, and one story about things being tougher for your parents growing up that actually holds true.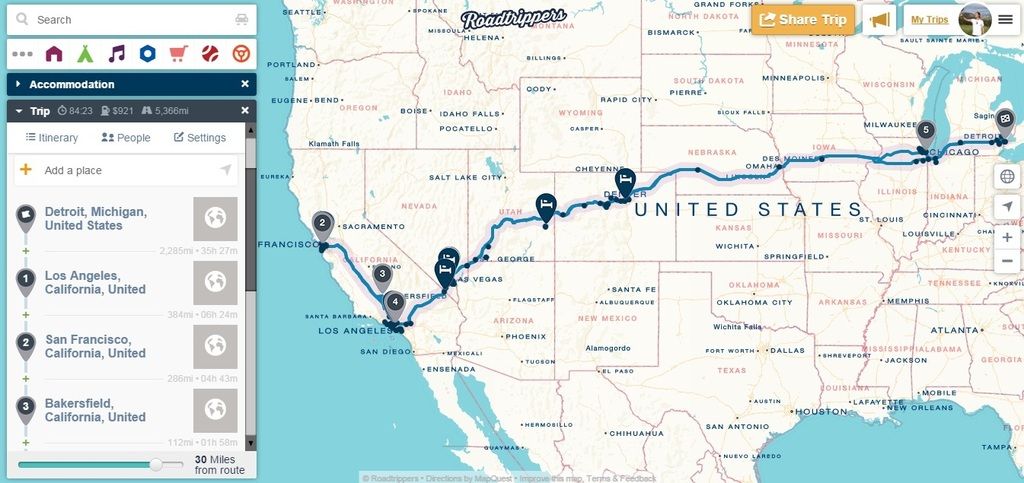 Bonus: Detroit completed a back-to-back home-and-home with San Francisco two weeks later (because why play two games in the same location when teams could play once then fly 3,000 miles to play each other again the next night?) Chamberlain scored 46 and 51 in the two matchups but Detroit stole two wins thanks to healthy contributions from Bob Ferry and Don Ohl.
14. The 1962-63 Pistons featured seven players who'd go on to coach or GM in the NBA (though two were traded just prior to the season). They were: Gene Shue & Ron Lee (both traded), Dave DeBusschere, Kevin Loughery, Johnny Egan, Ray Scott, and Bob Ferry.
15. Wilt Chamberlain's Warriors moved from Philadelphia to San Francisco in 1962, pushing them into the Western Division with the Pistons (yes, Detroit was considered "West" until 1978). The shift meant Detroit had the honor of seeing Chamberlain 12 times in '63, one season removed from his 50.4 campaign. Wilt averaged 48.7 points per game in those dozen matchups. The good news? The Pistons finished 7-5 in the head-to-head.
| | | | |
| --- | --- | --- | --- |
| Date | Location | Points | Pistons Win? |
| 10-23 | San Francisco | 56 | No |
| 10-26 | San Francisco | 50 | No |
| 11-14 | Detroit | 49 | Yes |
| 12-7 | Detroit | 51 | Yes |
| 12-21 | Detroit | 52 | No |
| 1-22 | San Francisco | 39 | Yes |
| 1-24 | San Francisco | 58 | No |
| 2-6 | Detroit | 48 | No |
| 2-12 | Detroit | 46 | Yes |
| 2-13 | San Francisco | 51 | Yes |
| 3-5 | San Francisco | 25 | Yes |
| 3-8 | San Francisco | 51 | Yes |
16. In the midst of getting hustled by Woody Harrelson and Wesley Snipes' characters in 1992's White Men Can't Jump, Raymond, a six-foot-seven house of a man played by former NBA All-Star Marques Johnson, dubiously attempts to rob a corner store at gunpoint before an unimpressed clerk asks, "Raymond, is that you?" Raymond, fooling no one, responds in falsetto, "Nah, this ain't Raymond!"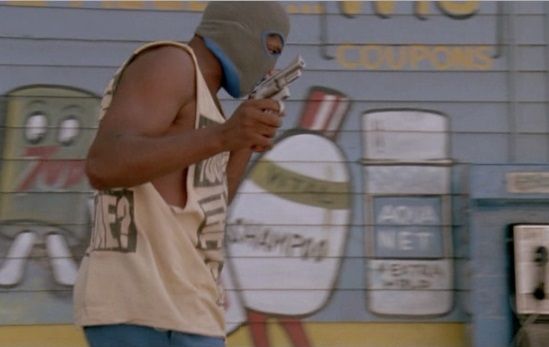 Turns out, White Man Can't Jump lifted that scene directly from the real life trials and tribulations of Detroit's Reggie Harding.
Marred by constant run-ins with the law, including a gun charge that led him to miss half of his first season in the NBA, Harding played parts of just four years in the league, three with the Pistons. An oft-told tale had Harding returning to his unlawful ways after his career concluded, holding up a local Detroit market before a clerk recognized his seven-foot frame and said, "I know that's you, Reggie", to which Harding reportedly responded, "It ain't me, man."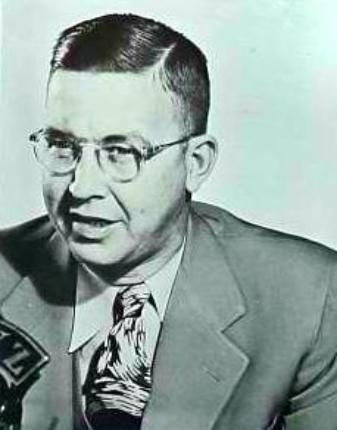 17. Still mad about the Chauncey Billups/Allen Iverson trade? Well, we've seen worse. Behold, the train wreck that was the 1964-65 Detroit Pistons:
Head coach Charley Wolf kicked things off in June by passing on Willis Reed in the draft in favor of Joe "Pogo" Caldwell. He followed that up by trading future Hall of Famer Bailey Howell (21.6 ppg), All-Star Don Ohl (17.3 ppg), Bob Ferry (10.6), Les Hunter, and Wali Jones (aka most of his rotation) for Terry Dischinger, Rod Thorn and Don Kojis.
After a 2-9 start, the Pistons promoted Don Wattrick to GM. Plot twist: Wattrick's only experience with the game of basketball came in broadcasting. His first order of business was to remove Wolf as head coach and replace him with (drum roll, please)... 24-year-old forward Dave DeBusschere. In just his third NBA season, DeBusschere stood in as player-coach during a 31-49 campaign. Wattrick died of a heart attack a year later and Detroit's biggest pull in the Howell trade, Terry Dischinger, ended up missing two years of his prime while serving in the Vietnam. The End.
18. More tragedy: The Pistons selected Michigan two-time All-American Bill Buntin with a territorial pick in the 1965 NBA Draft. Despite averaging 7.7 points and six rebounds his rookie year, Buntin was out of the league by '67 and died of a heart attack during a pick-up game in '68. He was 26.
19. Prior to Dave DeBusschere's player-coach days with the Pistons, he spent a handful of his offseasons as a pitcher for the Chicago White Sox (career record: 3-4). But he wasn't the only Piston in the 60's to pull double duty.
After splitting time between two sports, 1965 draft pick Ron Reed stepped away from the Pistons altogether after two seasons, opting to focus on his pitching career full time. It worked out. Reed was named an MLB All-Star with the Atlanta Braves in 1968 and went on to win 146 career games over 19 seasons.
20. Detroit didn't love Dave Bing, at first. With a coin flip determining whether the Pistons or New York Knicks would select first in the 1966 NBA Draft, it seemed to make too much sense that Dave Bing, a star at Syracuse, would stay home in New York while Michigan's Cazzie Russell would take the 40-mile jaunt from Ann Arbor to Cobo and join the Pistons.
That's not how things worked out. New York won the toss and opted to pass on the home-state kid in favor of Russell, considered the draft's lone can't-miss prospect. Bing, and the Pistons for that matter, wasn't exactly pumped with the sudden turn of events. 
"Bing was the best player in the country available to us," a sullen Dave DeBusschere lamented after the draft. 12 seasons later, Bing had taken over virtually every mark in the Pistons record book, scoring over 18,000 career points during a Hall of Fame career.
21. Here's a fun one: The Pistons unloaded Ray Scott to the Bullets in a three-way trade in February of '67 with the Lakers' Rudy LaRusso set to head to Detroit. One problem: LaRusso had no interest in playing for the Pistons. So, in classic Peter-Gibbons-from-Office-Space fashion, he just kind of... didn't go. And the league allowed it.
The trade still went through, meaning Scott still went to Baltimore, but Detroit just got nothing in return. After some wrangling, the Pistons were eventually given L.A.'s first round pick, a selection that was then wasted on Sonny Dove. The Knicks selected Walt Frazier with the following pick (ouch).
Bonus: Just months before the trade, LaRusso was the prime antagonist in the infamous Willis Reed-vs.-the-Lakers brawl at MSG. Things didn't turn out too well for Rudy and company:
22. After landing a coin toss away from the top pick in '66, the Pistons finally got their chance a year later, selecting Jimmy Walker with the first overall pick in '67. Walker, a future two-time All-Star, is the father of former Fab Five member and 13-year NBA veteran Jalen Rose.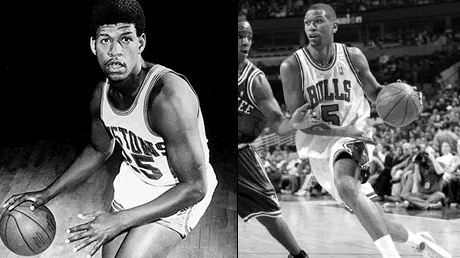 23. More Wilt stuff: On Feb. 2, 1968, Chamberlain became the first (and only) player in NBA history to officially record a 20-20-20, scoring 22 points, grabbing 25 rebounds, and delivering 21 assists in a 131-121 win over the Pistons.
Bonus: He became the league's all-time scoring leader just two years earlier... also against the Pistons.
24. Dave Bing's salary doubled in each of his first three years in the league, jumping from $15,000 to $37,500 after his rookie year then skyrocketing up to $75,000 by year three.
25. In 1968, Bing became the first guard to lead the NBA in points since Max Zaslofsky of the Chicago Stags 20 years earlier. He eventually retired as a lifelong Piston in 1978...
... Just kidding. The Pistons traded him, too.
For more, be sure to check out Steve Addy's The Detroit Pistons: Four Decades of Motor City Memories.