It's been a while since the Pistons have waded their way into the postseason. Six years, in fact. And really, outside of that 25 year span between 1984 and 2009, franchise history isn't particularly rich with playoff success.
Still, to commemorate Detroit's long-awaited return to meaningful basketball, here's a look at our Top 10 first round playoff battles in Pistons history.
10. Joe D's Last Hurrah (Pistons vs. Hawks, 1999)
The Atlanta Hawks, of all teams, were the bane of the Pistons' playoff existence throughout the 90's. Atlanta and Detroit went the distance three times in an eight-year span and while the Pistons slipped by in '91, the Hawks got their revenge in '97 and '99.
1999 gets the nod here as Joe Dumars' last stand. Playing his 14th and final season as a pro, Dumars' final act included a 20-point performance in Game 4, helping his squad fight back from a 2-0 hole to even things up and force a do-or-die Game 5. The magic didn't last; Dumars closed out his NBA career two days later with a three-point showing in his career finale, a 12-point loss.
9. Student Becomes the Teacher (Pistons vs. Knicks, 1992)
https://www.youtube.com/watch?v=BwnKm9_rYM0
"Hey, what goes around comes around."
New York Knicks forward and noted choke-out enthusiast Xavier McDaniel couldn't have summed things up any better when discussing his team's first round matchup with the fading Detroit Pistons in 1992. While most tend to point to 1991's Eastern Conference Finals loss to the Chicago Bulls as the Bad Boys' swan song, it was their meeting with the Knicks, a team following Detroit's bruising blueprint, that ultimately dealt the final death blow.
Detroit faced their fate head-on, as both teams combined for at least eight technical and flagrant fouls in the series' first three games, including four techs in the first three minutes of Game 3.
Still, the well ran dry in Game 5. Isiah Thomas scored his team's last 19 points but it wasn't enough to compensate for Detroit's 38 percent shooting and their inability to stop Patrick Ewing (31 points, 19 rebounds).
8. Triple Trouble (Pistons vs. Royals, 1962)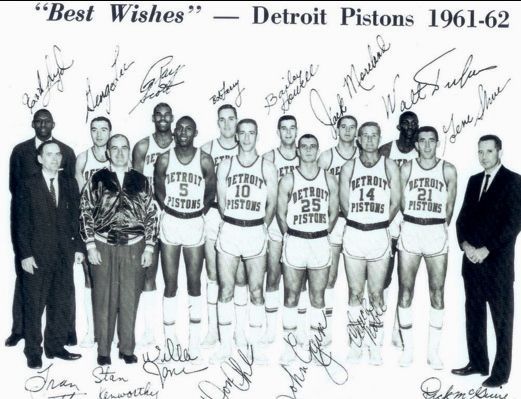 The NBA went bonkers in 1962. In addition to Wilt Chamberlain averaging a mind-bending 50.4 points per game, a 23-year-old Oscar Robertson averaged a triple double — 30.8 points, 12.5 rebounds, and 11.4 assists. But you know what often gets overlooked? The Pistons bounced Robertson's Cincinnati Royals with the swiftness in their first round best-of-five series.
Robertson still got his, averaging 28.8, 11, and 11 over four games, but Detroit countered with three players (Don Ohl, Gene Shue, and Bailey Howell) averaging at least 22 points for the series (seriously, it was a crazy year). Ohl's 33 points, including a key layup in the game's final moments, pushed Detroit to a 112-111 series-ender in Game 4.
7. Trade Star, Fire Coach, Profit? (Pistons vs. Bucks, 1976)
https://www.youtube.com/watch?v=93czmO2yQFQ
All signs pointed to a swift playoff exit for the Pistons in '76. Without Dave Bing (traded to the Bullets) and without the man they received in exchange (the injured Kevin Porter), Detroit rolled into the postseason with a 36-46 record, having fired head coach Ray Scott at midseason (during practice, no less) and replacing him with Herb Brown (yes, Larry's older brother).
Alas, none of that seemed to matter during their best-of-three series against the division champion Milwaukee Bucks. After both teams exchanged three-point wins in games 1 and 2, Detroit was nursing a 103-102 lead in Game 3 with 21 seconds remaining when Detroit guard Chris Ford picked off David Meyers' inbounds pass and cruised in for the series-clinching layup.
Epilogue: Behind Bob Lanier's nightly 26 and 13, the Pistons came this close to knocking off the defending champion Warriors in the Western Semis. Detroit pushed Golden State to six games before falling by two in overtime at Cobo.
6. Coming Out Swinging (Pistons vs. Bucks, 2004)
Finishing out the regular season with a 20-4 run following the acquisition of Rasheed Wallace, the Pistons were peaking at just the right time. Of course, even then, they were hit with allegations of being boring to watch on account of final scores that rarely eclipsed the century mark.
With that in mind, the Pistons made a point of announcing their presence with authority in the post-season opener, forcing the Milwaukee Bucks into 24 turnovers and converting 12 dunks in the process. Winning each game in the series by an average of 14 points, Detroit hit the ground running en route to their 2004 championship triumph.
5. Malone Problems (Pistons vs. Bullets, 1988)
The Pistons' first division title in franchise history was nearly tarnished right out of the gate in 1988, all thanks to a pair of Malones. While Moses Malone bruised inside, Jeff Malone was giving Joe Dumars Jordan-like problems all series, averaging 25.6 points over five games and nearly pulling off an unlikely upset. Jeff scored 35 on 15-of-22 shooting in Game 3, including 4-of-4 in overtime, sparking Washington's retort after dropping the first two contests of the series.
At a loss as to how to cool off an opposing two-guard on an unconscious run, Chuck Daly appealed to his secret weapon for the deciding Game 5. In lieu of Dumars, Daly assigned the task of slowing Malone to the 6-foot-8 Dennis Rodman, who held him to just 1-of-12 shooting and four points in a 99-78 rout.
4. Welcome Back (Pistons vs. Raptors – 2002)
For the new generation of Pistons fans, this is how it all started. Over 10 years removed from their last championship, through years of ineptitude and teal-hued mediocrity in the 90's, the Pistons began their ascent back to glory in 2002.
After winning their first division title in over a decade, the Pistons were supported by a rabid and playoff-starved fanbase for their first round matchup against the shorthanded Toronto Raptors (sans Vince Carter). Both teams protected their home court (with Ben Wallace going for 19 points and 20 rebounds in a raucous playoff debut) before Corliss Williamson's 23 points pushed Detroit to a narrow 85-82 victory in Game 5.
Two years later, the Pistons were crowned champions, but it all started in 2002.
3. A Rivalry Ignites (Pistons vs. Bulls, 1974)
"This series was supposed to be a piece of cake for them—now they're choking on it."
Oh yes, the Pistons/Bulls playoff rivalry extends back well beyond the years of Laimbeer and Jordan. And Pistons head coach Ray Scott pulled no punches after his team staved off elimination with a 92-88 Game 6 win.
Led by the Hall of Fame duo of Dave Bing and Bob Lanier, the Pistons won a franchise-record 52 games and nearly pulled off a modest upset over a Bulls team that took five of seven during their regular season matchups.
Instead, Chicago's Chet Walker connected on a 10-footer with three seconds remaining in Game 7 to give his Bulls a 96-94 edge. With one final opportunity remaining, Dave Bing's inbounds pass was picked off by Dennis Awtrey, pushing the Bulls to the second round while officially igniting a rivalry that remains alive and kicking over 40 years later.
2. Zeke's Legend (Pistons vs. Knicks – 1984)
https://www.youtube.com/watch?v=84Cht1O-WHE
With the Silverdome unavailable and a Ted Nugent concert keeping Cobo out of the picture, the Pistons were forced to play Game 5 of their 1984 series at Joe Louis Arena. It would serve as the setting of one of the greatest playoff battles of all-time.
Trailing by eight with under two minutes remaining, Pistons guard Isiah Thomas took it upon himself to will his team back into contention, scoring 16 points in 65 seconds, including an overtime-inducing 3-pointer with 24 seconds remaining. It was a stretch that rests comfortably among the likes of Reggie Miller's eight points in nine seconds and Tracy McGrady's 13 in 35. It should have been enough.
It wasn't.
Riding along the coattails of Bernard King's 44 points (he averaged 42.6 in the series), the Knicks hung on for a 127-123 overtime win, taking the series in five.
1. "It feels good to get into the second round." (Pistons vs. Magic – 2003)
Not so fast, Mr. McGrady.
After Orlando's 100-92 Game 4 win, superstar shooting guard Tracy McGrady was pumped. After years of missteps, he was happy to finally work his way into the second round. Except he didn't. The 2002-03 season was the first time the NBA's quarterfinals moved to a best-of-seven as opposed to a best-of-five. McGrady didn't get the memo. Either way, averaging over 36 points a night during the first four games of the series, T-Mac was unstoppable and a second round trip appeared inevitable.
Then Tayshaun Prince happened.
Despite playing just 42 regular season games, scoring all of 137 points on the season, Prince entered the fold as a last-ditch attempt of slowing McGrady. It worked. Pestered by Prince's length, McGrady shot just 36 percent from the floor over the series' last three games. As an added bonus, Prince became an offensive weapon as well, scoring 20 points in Detroit's Game 7 clincher, a 108-93 romp in Auburn Hills.
And that's how the Palace Prince was born.
Have you subscribed to our YouTube Channel yet? Subscribe and hit that notification bell to stay up to date on all the latest Detroit sports news, rumors, interviews, live streams, and more!